Senegal shuts off mobile internet after arrest of opposition leader
The government of Senegal shut off mobile internet across the country on Monday following the arrest of opposition leader Ousmane Sonko.
Sonko was detained on Friday after getting into a dispute with armed soldiers stationed outside of his home. Before he was arrested, Sonko asked his supporters "to stand ready to face this endless abuse."
Several internet access organizations said they observed massive dips in mobile connectivity starting on Monday. In a letter, Senegal's Communications and Telecommunications Ministry confirmed that it was temporarily suspending mobile internet.
"The Minister of Communication, Telecommunications and the Digital Economy informs the public that due to the dissemination of hateful and subversive messages relayed on social networks in a context of threat of disturbance to public order, the mobile internet is temporarily suspended on certain time slots from Monday, July 31, 2023," the ministry said.
"Telephone operators are required to comply with the notified requisitions."
Alp Toker, director of global internet monitor NetBlocks, told Recorded Future News that their metrics show mobile connectivity has been disrupted at a national scale while fixed line service remains available.
Toker said that Senegal resembles many countries across Africa in that consumers and businesses rely heavily on cellular service due to limited landline infrastructure.
Shutting off mobile connectivity will have a "significant" impact, Toker explained.
"Today's measure was imposed 9 a.m. UTC today (Monday morning) although the arrest of Ousmane Sonko was made in Dakar on Friday afternoon, which tells us that the mobile data shutdown is likely in place to quell the public response in keeping with the past incidents," Toker noted.
Researchers at technology giant Cloudflare said mobile connectivity on two of the country's largest providers — Tigo, with more than 610,000 users and Sudatel Senegal, with nearly 275,000 — has fallen to zero. NetBlocks charts show similar dips in connectivity.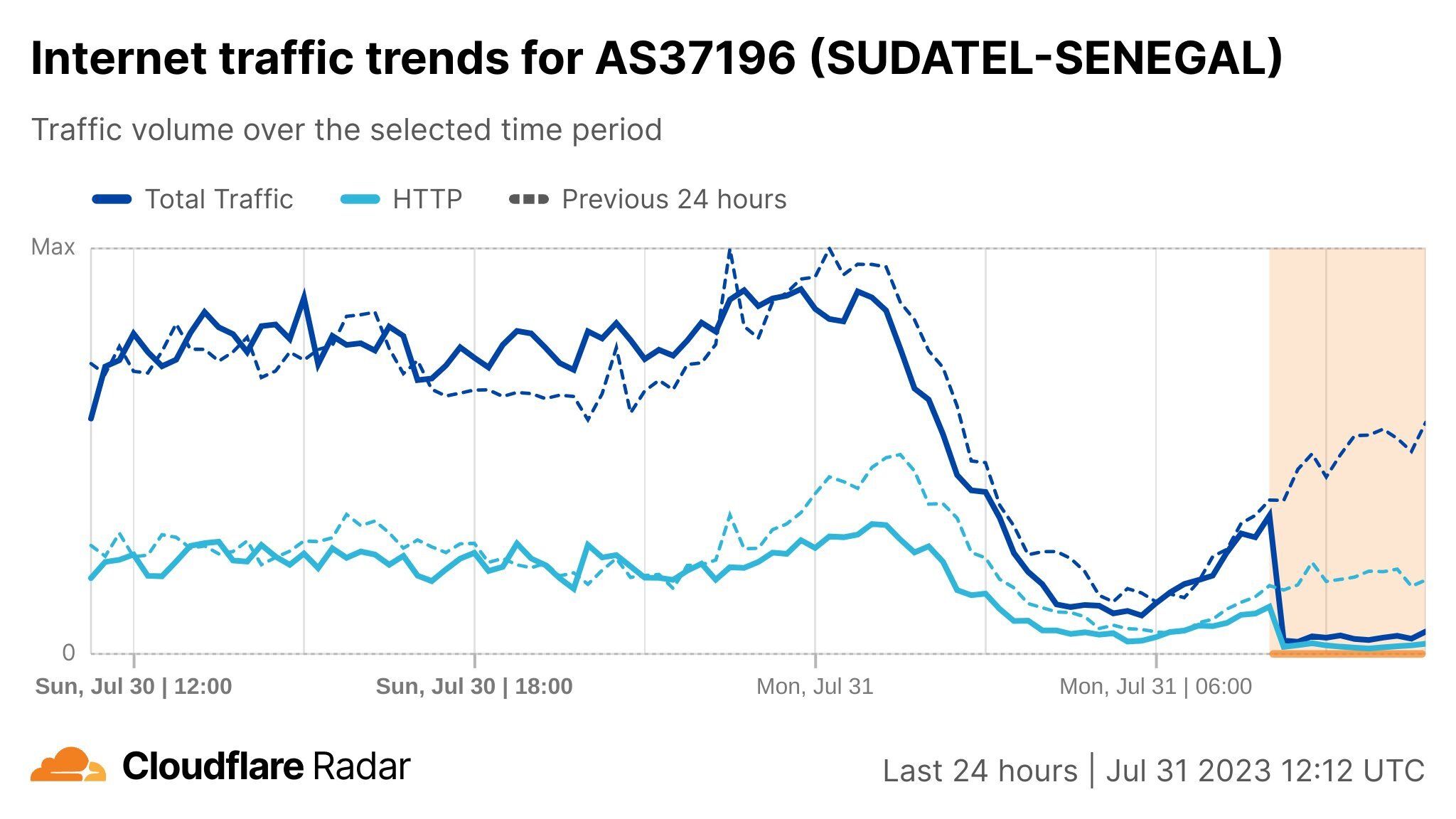 Toker, who called the impact of the outages "significant," noted that this is just the latest internet lockdown by the government in recent years. In June, the government imposed curfew-like shutdowns on internet access, effectively blocking it for a 13-hour period across the country in an effort to quell dissent over the trial of Sonko, who at the time was in court on several charges.
The government also used the mobile shutdown tactic in June to keep people off of the streets and away from protests over Sonko's sentencing, Toker explained.
"What stands out here is Senegal's rapid decline into digital authoritarianism – a country once held as a poster child for democracy in Africa has taken a rapid turn, and measures taken in the digital space have become increasingly disproportionate," Toker said.
"It's also striking that authorities have put forward legalistic explanations and published the shutdown orders, citing 'the dissemination of hateful and subversive messages relayed on social networks in a context of threat of disturbance to public order,' quite possibly because effective monitoring and journalism have meant the practice can no longer be kept on the quiet.
"In any case, the harms to the public's right to free expression and their right to stay informed is evident."
Sonko was originally sentenced to two years in prison but was held on house arrest. He was slated to run against current President Macky Sall in next year's elections but likely will not be allowed to due to his convictions. Earlier this month, Sall said he will also not be seeking a third term as president.
Sonko is a widely-revered politician among the country's youth and his supporters believe the charges against him are politically motivated. On Saturday, the country's prosecutor announced seven new charges against the 49-year-old that include conspiracy against the state and insurrection.
Get more insights with the
Recorded Future
Intelligence Cloud.
Learn more.
Jonathan Greig
Jonathan Greig is a Breaking News Reporter at Recorded Future News. Jonathan has worked across the globe as a journalist since 2014. Before moving back to New York City, he worked for news outlets in South Africa, Jordan and Cambodia. He previously covered cybersecurity at ZDNet and TechRepublic.