Senegal continues curfew-like internet shutdown to subdue protests
The government of Senegal has continued to impose curfew-like shutdowns on internet access, effectively blocking it from 1 p.m to 2 a.m. across the country in an effort to quell dissent over the trial of opposition figure Ousmane Sonko.
Sonko, a widely-revered politician among the country's youth, was convicted of charges related to "corrupting young people" last Thursday and was sentenced to two years in prison. He was planning to take on President Macky Sall in next year's election before being hit with a variety of charges – which his supporters believe are politically motivated.
Since the conviction was announced, more than 500 people have been arrested for participating in protests. Interior Minister Antoine Felix Abdoulaye Diome said in a press conference that the government was limiting internet access to stop "fake news" from spreading on social media and messaging apps.
Several organizations and companies monitoring internet access globally confirmed to Recorded Future News that mobile internet was being intentionally limited in the country at specific times.
Both NetBlocks and Cloudflare have collected data illustrating the internet cuts. Amnesty International's arm in Senegal, alongside the the Human Rights Foundation, criticized the shutdowns.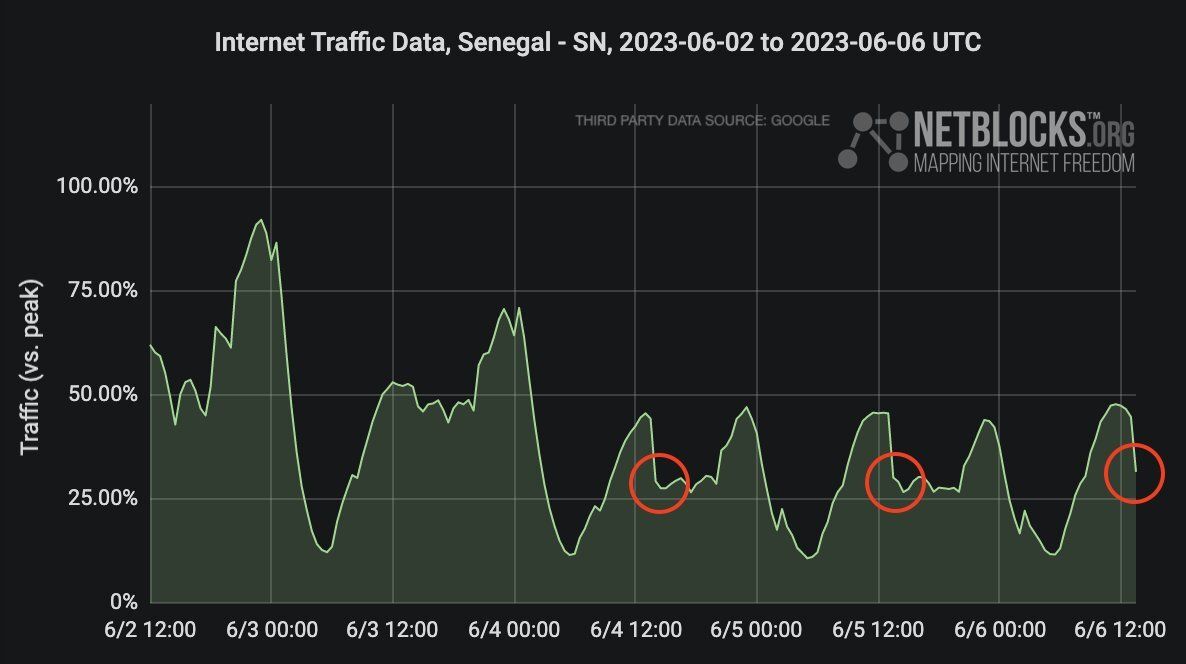 Image: NetBlocks
"We condemn the restrictions on access to social networks and the cutting of the private TV signal Walf TV These restrictions are arbitrary measures contrary to international law and cannot be justified by imperatives of security," Amnesty International said on Twitter.
Last week several social media sites were blocked but citizens were able to get around the shutdown by using virtual private networks. Wider internet shutdowns began to expand over the weekend.
The Human Rights Foundation noted that one of the victims of violence was 26-year-old Elhaji Cissé, who had been sharing information online and offline about security personnel shooting live ammunition at protesters.
Cissé had also tweeted at Elon Musk asking whether his Starlink service could be used to give internet access to the people of Senegal.
"The Senegalese government has blocked internet access to the Senegalese people. This is a violation of human rights and an attempt to silence dissent. We urge you to use Starlink to provide internet access to the people of Senegal," Cissé said before he was killed by security forces on Saturday.

Image: Cloudflare
Daily shutdowns
Cloudflare's head of data insight David Belson told Recorded Future News that so far they have tracked three daily internet shut downs that are taking place on Free/Tigo, a mobile carrier within the country, as well as Sudatel Senegal.
"Free/Tigo seems to be the largest mobile network in the country, so focusing on them makes sense. However, they account for significantly less traffic than Sonatel, which doesn't appear to be targeted by the shutdowns — possibly because they are largely a fixed line provider and likely provide connectivity to business and government customers," he said.
"Senegal was also broadly blocking a number of social media and messaging platforms before they started implementing these shutdowns. It's not clear if the shutdowns were implemented because users were finding ways of circumventing the blocking, or if they are being implemented simply to further suppress communication."
Free published a statement on Tuesday saying mobile internet would be available again after they were told by authorities that restrictions on mobile data would be lifted. The company did not respond to requests for comment about how long it would remain available.
NetBlocks director Alp Toker said curfew-style internet shutdowns have appeared in various contexts across the globe, most commonly during social unrest such as Iraq in 2019 and Myanmar in 2021.
"Curiously, we haven't really seen this practiced at scale in African countries to date, where unlimited and undisclosed total network blackouts or social media throttling are the norm," he said.
Additionally, Senegal's situation is unique in that the government is shutting down connectivity during normal working hours, Belson said.
Get more insights with the
Recorded Future
Intelligence Cloud.
Learn more.
Jonathan Greig
Jonathan Greig is a Breaking News Reporter at Recorded Future News. Jonathan has worked across the globe as a journalist since 2014. Before moving back to New York City, he worked for news outlets in South Africa, Jordan and Cambodia. He previously covered cybersecurity at ZDNet and TechRepublic.