New Android malware records smartphones via VNC to steal passwords
Security researchers have discovered a novel piece of Android malware that uses the VNC technology to record and broadcast a victim's smartphone activity, allowing threat actors to collect keyboard presses and app passwords.
First spotted in March 2021 by Dutch security firm ThreatFabric, this new piece of malware, named Vultur, is a departure from other Android malware strains that usually rely on fake login screens floating on top of legitimate apps to collect a victim's credentials.
Instead, Vultur opens a VNC server on the infected phone, and broadcasts screen captures to an attacker command and control server, where the Vultur operator extracts passwords for desired apps.
Below is a summary of Vultur features as detailed in a ThreatFabric report shared with The Record this week:
Although it is advertised as a banking trojan, Vultur is part of a recent trend where Android banking trojans also come with features typical to remote access trojans (RATs), allowing attackers full control over a device.
Vultur is currently installed on devices that have been previously infected with the Brunhilda malware [PDF], known to sometimes reached the Google Play Store and serve as a "dropper" for other malware strains.
Vultur is successful in taking full control over a device only if it manages to trick users into granting access to the Accessibility permission.
Vultur automatically presses the "Back" button whenever users navigate to the screen where they would uninstall its parent app.
Users can spot Vultur in operation because every time it broadcasts the victim's screen, the "Protection Guard" indicator lights up in the Android notification panel.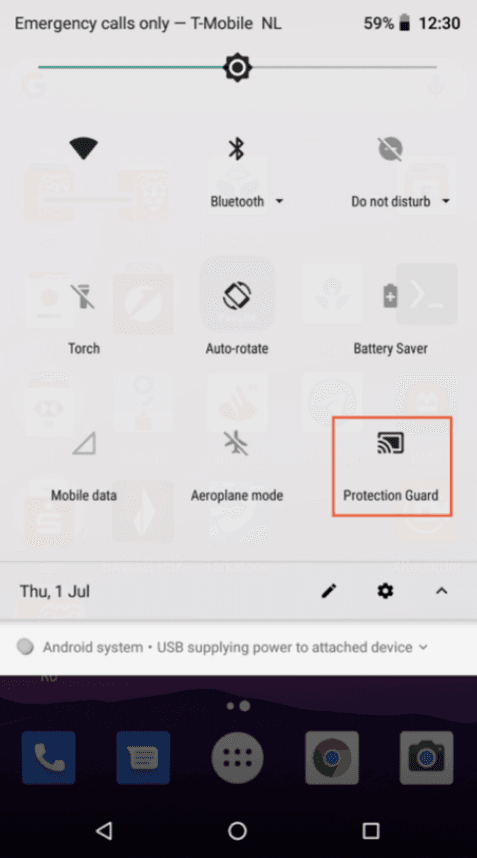 Besides collecting key presses via VNC, Vultur can also send a list of installed apps to the malware operator in order to decide if the victim is a valuable asset.
ThreatFabric estimated that Vultur has infected between 5,000 and 8,000 users so far.
Per the malware's configuration, it currently targets mobile banking apps for banks in Italy, Australia, Spain, the Netherlands, and the UK.
It can also target and steal credentials for cryptocurrency mobile wallets and social media apps.
ThreatFabric said that a code-level investigation unearthed similarities and possible connections to the Brunhilda developers.
Get more insights with the
Recorded Future
Intelligence Cloud.
Learn more.
Catalin Cimpanu
Catalin Cimpanu is a cybersecurity reporter for The Record. He previously worked at ZDNet and Bleeping Computer, where he became a well-known name in the industry for his constant scoops on new vulnerabilities, cyberattacks, and law enforcement actions against hackers.