Major Mississippi hospital system takes services offline after cyberattack
One of the largest hospital systems in Mississippi was forced to take several internal services offline after experiencing a cyberattack that began last week.
Singing River Health System – which runs Pascagoula Hospital, Ocean Springs Hospital, and Gulfport Hospital as well as dozens of clinics and centers along the Gulf Coast – is about an hour away from New Orleans and Mobile, Alabama.
Local news outlet WLOX first reported on Sunday that the hospital system "detected unusual activity" on its network and was working with law enforcement agencies to address the situation.
In a statement on Monday, officials confirmed that they were forced to take certain internal systems offline due to the cyberattack.
"Downtime procedures remain in place as we continue to see patients. We are working very hard to provide more definitive information regarding what systems will be available and when. Our IT security team is working around the clock, but due to the nature of this matter, this will take some time," the hospital system said.
"Certain internal SRHS systems were taken offline to protect the integrity of the systems during the investigation. SRHS is working to restore offline systems. We developed workaround solutions to enable a portion of our business operations to continue while we complete a thorough investigation."
In comments to Recorded Future News, a hospital spokesperson declined to say if they were dealing with ransomware or if a ransom would eventually be paid. They would not elaborate on which federal law enforcement agencies were contacted or when systems would return to normal.
When asked what specific systems are offline, the spokesperson said, "All systems are currently offline," with no further explanation. In an FAQ, the hospital mentioned that its MySingingRiver chart system was offline.
Hospital officials noted that patients may experience delays with getting lab test results back and offered to fax documents to those who need it. Their lab is currently using paper orders for lab test requests and are processing them based on priority.
Radiology exams are also being affected by the attack, with clinics no longer able to provide them. Only the hospitals are able to conduct radiology exams — like lab results, they are being processed through a paper system and will be limited with delays.
Singing River Health System is one of the largest emergency departments in the region, serving more than 100,000 patients per year. George County, about 30 minutes away from the system hospitals, dealt with its own ransomware attack last month. It is not clear if the two incidents are related.
Hospitals continue to face an endless deluge of cyberattacks this year. Just two weeks ago, a major hospital network with arms in multiple states was hit with a ransomware attack that forced it to divert patients to other facilities and limit operations.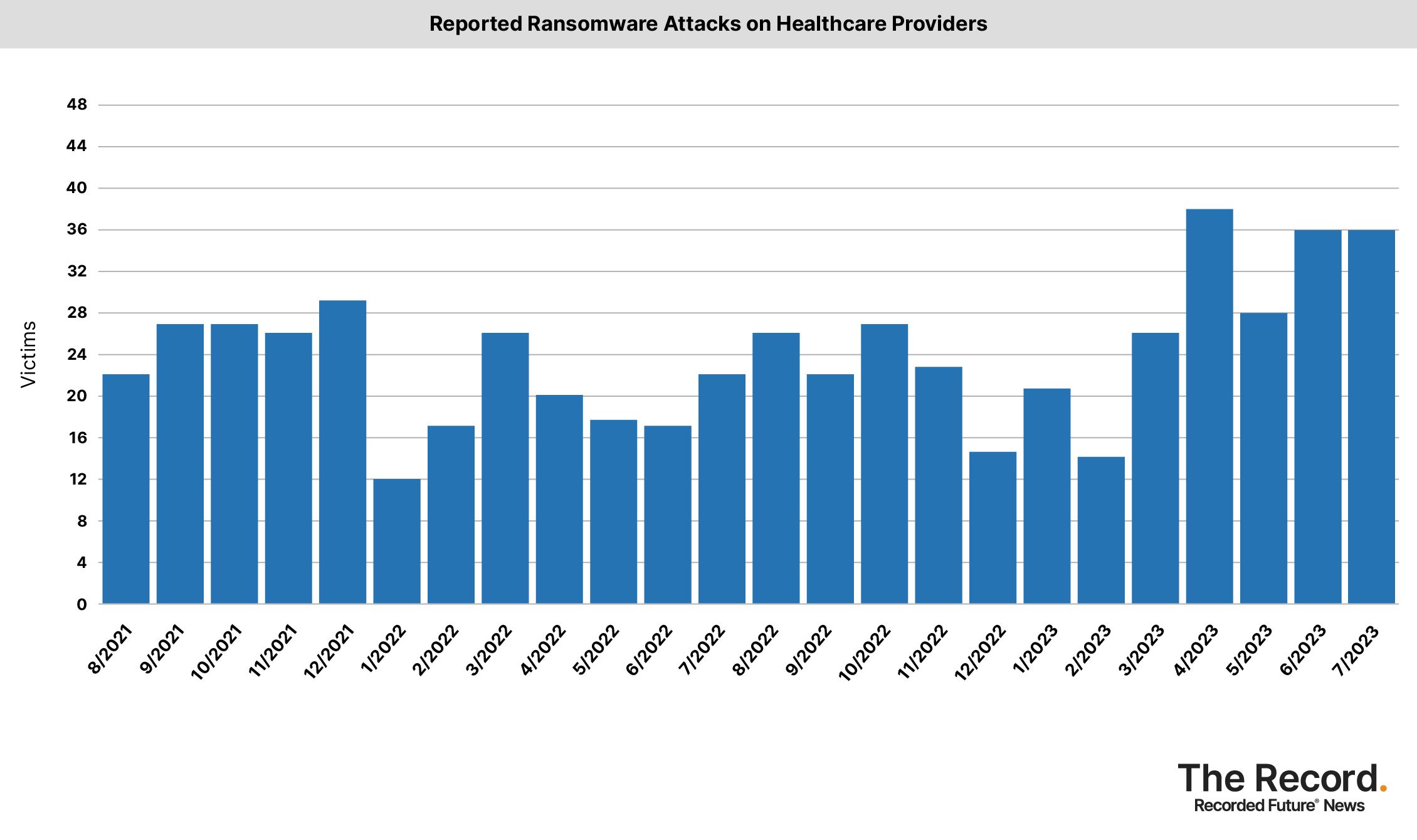 While government and healthcare officials rarely attribute deaths directly to cyberattacks and ransomware incidents, privately many experts inside and outside of government acknowledge that the added minutes and hours that come with ambulance diversions does cost lives.
The Cybersecurity and Infrastructure Security Agency (CISA) and other government arms have made protecting hospitals one of their priorities, prompting officials at the Department of Health and Human Services (HHS) to release dedicated guides on specific ransomware gangs that have been known to target healthcare facilities.
At a recent security conference CISA Director Jen Easterly said they now provide timely threat intelligence — as they did with the Prospect Medical attack — to hospitals and schools before a full-blown ransomware attack is launched. So far, CISA has provided this advance notice more than 600 times.
On Monday, HHS launched a new project soliciting proposals for proven technologies developed for national security that could be applied to civilian health systems, clinical care facilities, and personal health devices.
"The DIGIHEALS project comes when the U.S. healthcare system urgently requires rigorous cybersecurity capabilities to protect patient privacy, safety, and lives," said Advanced Research Projects Agency for Health Director Dr. Renee Wegrzyn.
"Currently, off-the-shelf software tools fall short in detecting emerging cyberthreats and protecting our medical facilities, resulting in a technical gap we seek to bridge with this initiative."
Get more insights with the
Recorded Future
Intelligence Cloud.
Learn more.
Jonathan Greig
Jonathan Greig is a Breaking News Reporter at Recorded Future News. Jonathan has worked across the globe as a journalist since 2014. Before moving back to New York City, he worked for news outlets in South Africa, Jordan and Cambodia. He previously covered cybersecurity at ZDNet and TechRepublic.