Internet shutdown in Gabon continues into third day following national elections
Internet shutdowns in the central African country of Gabon have continued into their third day after officials cut off networks in an effort to limit the spread of information during the election season.
The central African country is in the midst of a pivotal election between 64-year-old president Ali Bongo Ondimba — who took over for his father in 2009 and is seeking a third seven-year term — and former education minister Albert Ondo Ossa.
Communication Minister Rodrigue Mboumba Bissawou appeared on public television Saturday morning to announce that there would be curfews and an indefinite internet shutdown while votes were tallied.
À l'instant, le porte-parole du gouvernement #Gabon-ais vient nous annoncer à la TV qu'ils coupent Internet au mépris du respect des libertés individuelles des gabonais. Mais vous insultez l'intelligence des gens ! C'est fait, la fraude est officiellement en marche. pic.twitter.com/0cfynRsozk

— Scheena Donia (@Scheenadonia) August 26, 2023
"In order to prevent the spread of calls for violence... and false information, the government has taken the decision to suspend until further notice access to the Internet throughout the country," Bissawou said. "A curfew throughout the territory has been decreed and will be applied from this Sunday, August 27. It will be in force every day, from 7:00 p.m. until 6:00 a.m."
Since that press conference, the internet has been shut off across the country of 2.3 million people.
Alp Toker, director of internet access monitor NetBlocks, told Recorded Future News that the internet shutdown in Gabon impacted more than a dozen internet providers and networks in the country and is implemented at the network backbone level.
Their data shows a complete internet blackout began on Saturday afternoon.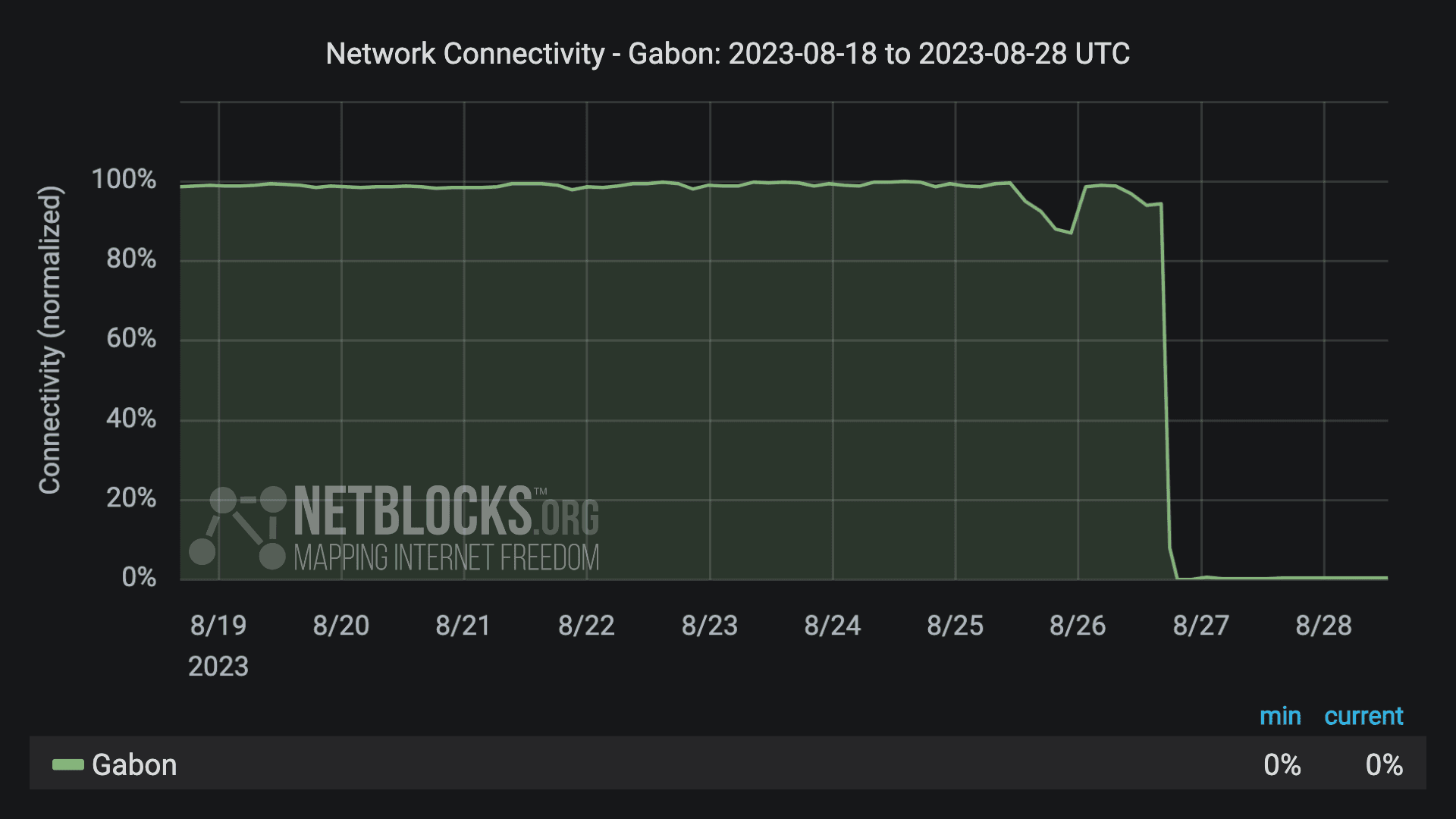 "What's telling here is that there is a single chokepoint for the nation's connectivity that serves as an effective kill switch. It's ongoing at the present time," he said.
"The internet blackout comes amid a wider parcel of restrictions with international news media also facing a temporary ban, and the closure of international borders."
CloudFlare similarly reported a total internet outage in the country.
Ondimba's reelection in 2016 was marred by violence and claims of election fraud after his opponent, Jean Ping, declared victory.
An election commission later said Ondimba won by a razor-thin margin but significant irregularities were found in the count from his home province of Haut-Ogooue. Ping's headquarters was bombed and multiple people were killed in the aftermath of the election.
Ondimba's family has controlled the country for 55 years, with his father serving as president for 41 years. Ondimba was named in 2021's Pandora Papers and has been accused of corruption by U.S. officials.
On Saturday, voters complained to the Associated Press of polling offices in the capital of Libreville opening late and other issues voting. Some said they were fleeing the capital out of fear that any election result would lead to violence.
In addition to the internet shutdown and curfews, the Communication Ministry banned TV stations from broadcasting news from France 24, RFI and TV5 Monde due to alleged bias.
Officials have not said when the results of the election would be announced or when the internet would be restored.
"From what we're hearing, people and businesses are equally impacted by the curfew, network disruption, and media bans, creating an environment of uncertainty," Toker noted.
Gabon previously cut off internet access in 2019, when the country experienced an attempted coup that failed, according to NetBlocks.
The organization noted that Gabon is just the latest country in Africa to shut off the internet for political purposes, with Zambia, Congo, Uganda, Tanzania, Guinea, Burundi, Togo, Mauritania, Benin, Cameroon, Mali and others all doing so in recent years.
In June, Senegal's government shut off its internet following protests over the trial of opposition figure Ousmane Sonko while April saw residents of Sudan struggle to gain access to the web amid a power struggle between two military leaders.
Human rights leaders have asked governments to include rules around internet shutdowns in the much-debated UN Cybercrime Treaty currently being drafted but were rebuffed during recent negotiations.
Get more insights with the
Recorded Future
Intelligence Cloud.
Learn more.
Jonathan Greig
Jonathan Greig is a Breaking News Reporter at Recorded Future News. Jonathan has worked across the globe as a journalist since 2014. Before moving back to New York City, he worked for news outlets in South Africa, Jordan and Cambodia. He previously covered cybersecurity at ZDNet and TechRepublic.