Monitoring organizations report widespread internet outages in Sudan, Pakistan
Internet outages in Sudan and Pakistan have alarmed experts concerned about people in both countries being cut off from the web amid political turmoil.
Several organizations monitoring internet connectivity in both countries said residents have faced widespread outages in recent days.
In Sudan, the internet outages are directly related to a burgeoning military conflict that has pitted the army against a powerful paramilitary force. While the two sides appeared to move closer to a ceasefire after peace talks in Saudi Arabia on Thursday night, internet access has been almost completely cut off in the country.
State regulators initially ordered providers to shut down the internet three weeks ago as fighting began to intensify but service was quickly restored, according to Reuters. Since then, the country has experienced intermittent outages as the fighting damaged internet infrastructure across the country.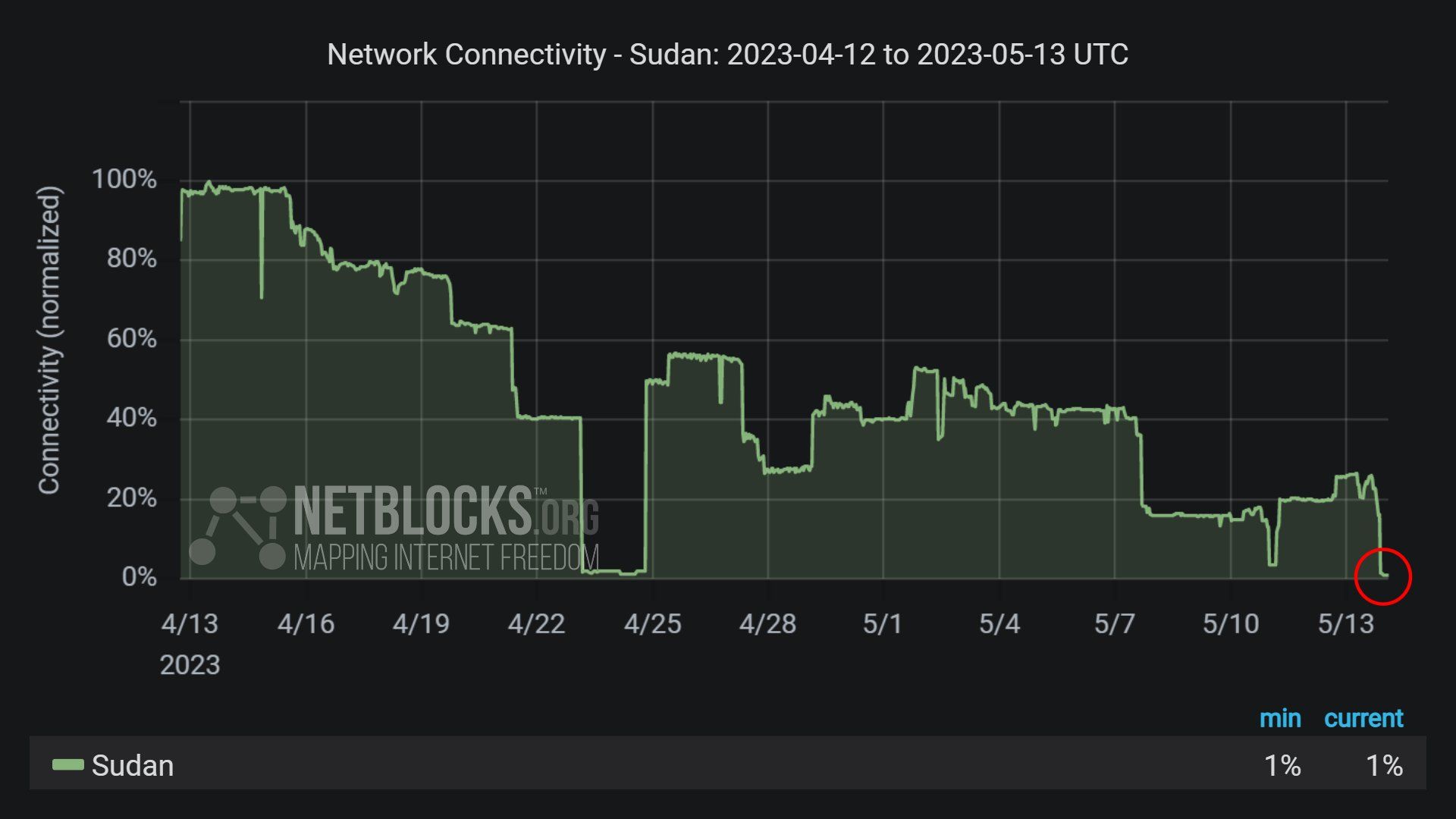 Last week, the Internet Outage Detection and Analysis (IODA) project at Georgia Tech said one of the country's main internet providers, Kanartel, has shown a complete outage since May 10.
Experts with NetBlocks, another organization monitoring internet access, told Recorded Future News that there has been a steep decline in internet access over the last three weeks, with the country now experiencing national connectivity at 1% of ordinary levels and disruptions registered on multiple providers.
"In Sudan, we're continuing to observe a stepwise decline of connectivity at nation scale despite attempts to restore service," said NetBlocks Director Alp Toker. "We understand they are linked to power outages, rather than to shutdown orders, as there is little evidence that providers have complied with demands that appeared early on during the conflict."
Toker added that it is highly likely that there has been damage to infrastructure, although he noted that his team has seen moments where Sudanese operators have been able to sustain connectivity, which he said "means there is hope for a strong recovery when the conflict ends."
Doctors in the country told The Washington Post that at least 59 out of Sudan's 88 hospitals cannot function due to damage, and fighting has not ceased since the agreement was issued. The U.N estimates that more than 700,000 people had been forced to flee their homes since the fighting began.
Pakistan arrest prompts outages
Regions in Pakistan have also been dealing with outages since the arrest last week of former Prime Minister Imran Khan on corruption charges.
As protests broke out in response to his arrest, NetBlocks, IODA and tech giant Cloudflare all reported internet shutdowns in regions supportive of Khan.
Update: Metrics show that social media remain restricted in #Pakistan alongside widespread mobile/broadband internet shutdowns, amid reports that the army has been mobilised against protesters following the arrest of former PM Imran Khan

Report: https://t.co/BCs5hPqris pic.twitter.com/BimIPiKn1k

— NetBlocks (@netblocks) May 11, 2023
Cloudflare Head of Data Insight David Belson said they observed widespread social media blocking and mobile internet shutdowns across the country.
There was significant traffic loss in mobile networks in Peshawar, which has dropped nearly 55% from prior days. Faisalabad (Punjab), Karachi (Sindh), and Multan (Punjab) have all seen peak traffic drop approximately 40%, Belson said.
Cloudflare noted that millions of Pakistanis are now trying to access state-blocked social media sites, registering 40% increases in request volumes for several social media sites like Facebook, Instagram, YouTube, and Twitter.
Platforms like Twitter saw 150% jump in requests on May 9 and Instagram also saw a nearly 50% increase.
"Because of the ubiquity of Internet connectivity and social media tools in everyday life, Internet shutdowns and website blocking ultimately come with a significant human and financial cost. The mobile network shutdowns in Pakistan have impacted tens of thousands of 'gig workers' and freelancers that depend on mobile connectivity," Belson said.
"Many point-of-sale terminals in the country also depend on mobile connectivity, with transactions through Pakistan's main digital payment systems fell by around 50% after the shutdowns were put into place. Telecommunications operators within Pakistan have estimated the extent of the financial damage thus far to be Rs. 820 million (approximately $2.8 million USD)."
NetBlocks' Toker echoed that assessment, warning that in addition to the human rights concerns around these kinds of internet shutdowns, the damage to Pakistan's economy would be significant.
Toker said they have tracked bouts of internet disruptions associated with Khan's speeches and public appearances since early 2022, noting that the government "clearly continues to see Khan and his base as a threat."
"It's likely that the latest round of disruptions will remain in place until the political situation changes one way or the other," he said. "In terms of magnitude and severity, these shutdowns are akin to the kinds of disruptions we see in Iran and they're of concern both from a human rights perspective and with regard to Pakistan's economy."
Cloudflare observed a 60% drop in request volume from mobile devices, while desktop traffic request volume remained fairly consistent. Peak mobile device traffic share dropped from 70% to 43%, they found.
The Pakistan Telecommunication Authority (PTA) announced on Wednesday that internet services would remain suspended across the country for an "indefinite" period. Cloudflare saw outages on the four major mobile providers within the country.
Get more insights with the
Recorded Future
Intelligence Cloud.
Learn more.
Jonathan Greig
Jonathan Greig is a Breaking News Reporter at Recorded Future News. Jonathan has worked across the globe as a journalist since 2014. Before moving back to New York City, he worked for news outlets in South Africa, Jordan and Cambodia. He previously covered cybersecurity at ZDNet and TechRepublic.