Q&A with a former member of Wagner Group: 'They were like little kings or czars'
As Ukrainian forces step up strikes inside Russia and appear to be launching long-awaited springtime counteroffensives, we take a look at one of the dominant players on the field: the Wagner Group. It has been feuding with the Russian army, and that tension appears to be escalating. There have been reports of friendly fire near the eastern Ukrainian city of Bakhmut, and Wagner allegedly detained the commander of the Russian Army's 72nd brigade. Wagner said he ordered his troops to fire on them.
For years now, Wagner has been working behind the scenes to help Russian President Vladimir Putin extend his reach around the world. Wagner's mercenaries are protecting local government officials in Mali, mining blood diamonds in the Central African Republic and most recently have been front and center in the war in Ukraine.
The group is thought to have lost some 9,000 soldiers since the war began and suffered tens of thousands of casualties, so it has embarked on a multimedia extravaganza aimed at convincing young men to replenish their ranks. The Click Here podcast spoke with one of its former members, Marat Gabidullin, to get an idea of what it is like to be a Wagner soldier and what lies ahead of the group. This interview has been edited for length and clarity.
CLICK HERE: How did the Wagner Group recruit you?
MARAT GABIDULLIN: That was actually me who found them. I was in the Russian military. I had worked as a paratrooper, but had been fired over an administrative error. After I lost my job, I spent time in prison for shooting and killing a representative of the crime community. I was not able to reinstate myself in the Russian military. I decided to join the Wagner Group because it did not matter whether you had a criminal history or not.
CH: Were you worried that because you had been to prison, you weren't going to find another job?
MG: It was a difficult period of time for me. I was under a lot of stress and didn't know if I would succeed anywhere else. I thought the Wagner Group would be a good place to start.
CH: How did you sign up with the Wagner Group?
MG: Once I found out about them in 2015, they specified the address to sign up and I went there. It was like a military tent with command personnel in there. So I went in and showed my documents, and they put me on the list of candidates. There were between 300-400 people getting tested. At the time, you were required to have some kind of military background. I did meet a few people that I served with before.
CH: And had other people also gone to prison like you?
MG: No, I wouldn't say so. I think the percentage of people who were in prison before was probably less than 10% at that time. [Editor's note: Wagner has since focused a lot of its recruiting on prisons.]
CH: What did the Wagner Group's testing to enlist involve?
MG: My knowledge of the military, my physical and medical condition. There was an interview including the polygraph. During the first conversation, they tell you right away what they expect of you.
CH: And what did they tell you that you would be doing?
MG: To participate in war. Only thing you're gonna be doing is doing combat operations. They say anything can happen. You can get killed or become disabled.
CH: How long were you there for this screening?
MG: Two days.
CH: So you're approved to join the Wagner Group. What happens next?
MG: Then I chose the subdivision that I wanted to join. I spoke to the commander of that subdivision and he agreed to include me into his group.
CH: Is this the way they still get people? Do recruits arrive at tents with their military papers?
MG: As far as I know right now, the level of requirements have dropped significantly. So now I don't think they ask for any kind of proof of prior military service or proof of good physical shape. All you have to do is show your passport, a paper saying that you don't have Covid, and some other medical documents.
At this point, they need to hire as many people as possible to fill their ranks. And for that reason, they're trying to hire anyone who is able to hold a gun.
CH: While you were with the Wagner Group, you were stationed in Luhansk, Ukraine, not long after Russia invaded Crimea. Can you tell me about that mission?
MG: At that time, there were no combat operations yet. So the operation lasted more than one month, maybe about two months. Very often Ukraine was subject to shelling from Luhansk. Very often the mercenary groups were crossing the line into Ukraine and did the ambushes there and combat operations there against the Ukrainian military.
My commander at that time — who was a Serbian national — was trying to avoid combat operations. I'm grateful for that.
CH: Did you think that that was a righteous cause, fighting Ukraine?
MG: In the very beginning. Yes, absolutely. In the very beginning I was still affected by all this propaganda and I was convinced that if there is a threat to Russia from the Western nations, then this was justified. However, after two months of being there, I realized that our propaganda was just supplying lies.
CH: You talk about the propaganda. These days, the Wagner Group tries to reach out to more recruits using entertainment. It releases catchy songs, rap music, and GoPro footage posted on social media. There are also action movies that resemble Hollywood blockbusters. They're even produced by the leader of the Wagner Group. Have you seen any of these films?
MG: Yes. I watched two movies. One is called ТУРИСТ, and there is another called Солнцепёк. I couldn't watch anymore. It's full of lies.
CH: So what upsets you about the movies is not emotional, something that reminds you of the fight. What upsets you is the lies?
MG: Oh yes. Everything is very untrue. But people do like it and many people buy it.
CH: These tactics remind me of how ISIS tried to draw in young, male recruits. Do you see these comparisons?
MG: I don't really think so, because ISIS is based strictly on ideology. On the other hand, the Wagner Group does not have any stable ideology.
CH: I agree that ISIS is about ideology, and Wagner is not. But do you see similarities in the way these two groups recruit?
MG: Well, I think generally there are a lot of common things between different groups. They use all the tools and means that they have available to attract people. For ISIS, they hire professionals who are kind of masters of their trade and who know what they're doing, who can very artfully convince other people and deliver the message. With Wagner Group, everything is much simpler. Wagner does not have propaganda people like that, professionals.
CH: So, you're saying ISIS and the Wagner Group use the same sort of techniques, but Wagner isn't quite as polished as ISIS?
MG: Yes, absolutely.
CH: I know in Syria you were part of the Wagner contingent that went toe-to-toe with ISIS.
MG: Yeah, in 2018, I was performing functions as a senior adviser with regard to ISIS in Syria. And this was the year where I was kind of rethinking everything that was going on. That included the goals of Yevgeny Prigozhin, the leader of the Wagner Group.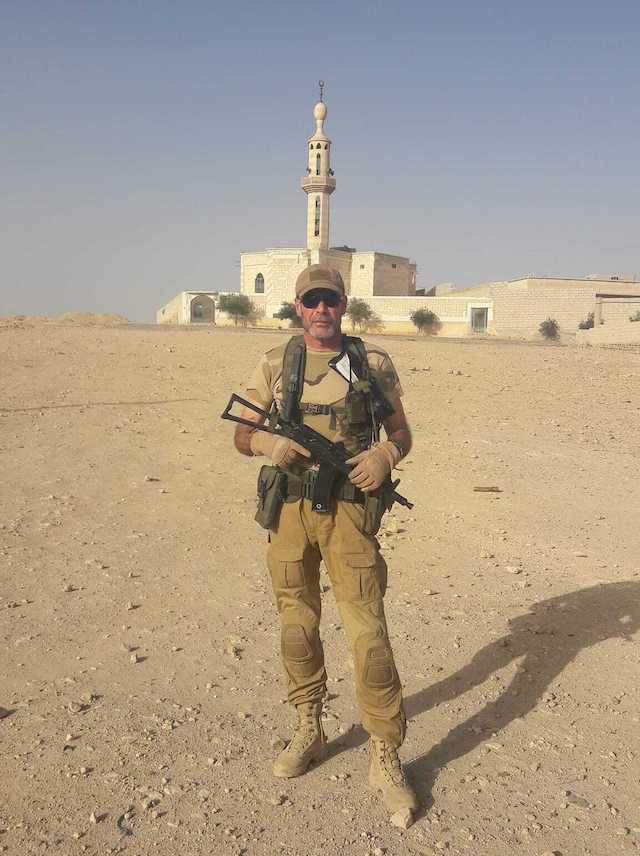 Image: Marat Gabidullin
CH: Did you ever meet Yevgeny Prigozhin?
MG: Yes, I was working for four months in the office with him as his assistant for tactics and operations. The entire office is basically like a kingdom of fear. Even his personal assistants, when they're preparing for a meeting, you can tell they're very nervous.
He started appointing commanders to different units and groups, not based on their military background, but based on how close they were to him. He surrounds himself with people who are absolutely dedicated to him. They could do whatever they wanted. They were like little kings or czars.
Wagner as a private military company started to convert from mercenaries into basically slaves, like military slaves, combat slaves.
CH: So in a sense, military discipline was gone?
MG: Well, actually military discipline was there and that was always the main part. The only difference is that before the military discipline was sustained by people understanding why they're doing it and kind of willing to do it, and then it switched to maintaining the discipline only based on the sense of fear of punishment.
CH: How did you leave the Wagner Group?
MG: I submitted a resignation letter, and it was declined. They said, "No, you still have tasks that you need to complete, so not allowed." And I said, well, I'm leaving no matter what. I went with my friend to Damascus, the capital of Syria, and spent like two days there just drinking. Prigozhin then ordered my resignation so that I could be sent back to Russia. I did not ask for forgiveness.
CH: And now you're in exile, living in Paris. When Russia launched its full-scale invasion of Ukraine, did he or anyone from the Wagner Group call on you to return to the battlefield?
MG: No, because at that time Prigozhin already declared me his personal enemy so Wagner would not call me up, but other structures did.
CH: Who did?
MG: Those were other military structures, different from the Wagner Group, but I absolutely refused and I said that, no, there is no way I'm gonna be taking part fighting against Ukraine.
There was no threat from Ukraine to Russia. They were not threatening them or anything like that. So this was absolutely unjustified. The only threat was for the Russian government because the Russian government was not able to achieve certain goals in terms of democracy.
CH: We've heard that the Wagner Group has changed since the invasion of Ukraine. Do you think it has?
MG: I personally think that the Wagner Group did not become any weaker. I even think they became stronger and the positions of Prigozhin himself are strong enough. He's still needed and in demand by the Kremlin.
The private military group Wagner has always been dependent on the Ministry of Defense of Russia. Basically, they used the same ideology. They always depended on the same logistics.
In Russia, the Wagner Group kind of creates a bit of a false impression of what the state is and what the functions of the state have to be.
CH: What do you mean?
MG: The Wagner Group has not been legalized within the Russian Federation, however, they're openly present and acting there. They can hire prisoners, for example, while bypassing all the rules and the laws. They also advertise through their information sources very cruel executions. And this creates a false impression among people that only those who have power are in power. So only those who are close to Putin are empowered to do whatever they want and the constitution and laws don't apply to them.
All information that's being spread about Wagner Group and Prigozhin right now, the main objective of that is disinformation, and specifically disinformation among Ukrainians.
CH: It sounds like what you're saying is that the Wagner Group seems to embody everything that's wrong about Russia today. Standards, rules don't apply.
MG: Yes, absolutely.
Get more insights with the
Recorded Future
Intelligence Cloud.
Learn more.