US extradites man accused of unwittingly distributing FBI's honeypot phones
The US extradited last month a man from the Netherlands who is accused of working for Anom — the encrypted communications platform used by global organized criminals that was the subject of  a lengthy undercover FBI investigation dubbed "Operation Trojan Shield."
According to an unsealed arrest warrant filed March 23, Aurangzeb Ayub — a citizen of the United Kingdom and the Netherlands — is being charged with racketeering (RICO) conspiracy and criminal forfeiture in the US District Court for the Southern District of California. An updated legal docket suggests he was detained on March 18, and his bail is set at $100,000. Motherboard first reported Ayub's extradition.
Ayub is one of 17 defendants accused of working with and for the Anom enterprise according to an indictment filed in May 2021. The defendants "engaged in acts involving drug trafficking, money laundering, and obstruction of justice," the indictment states.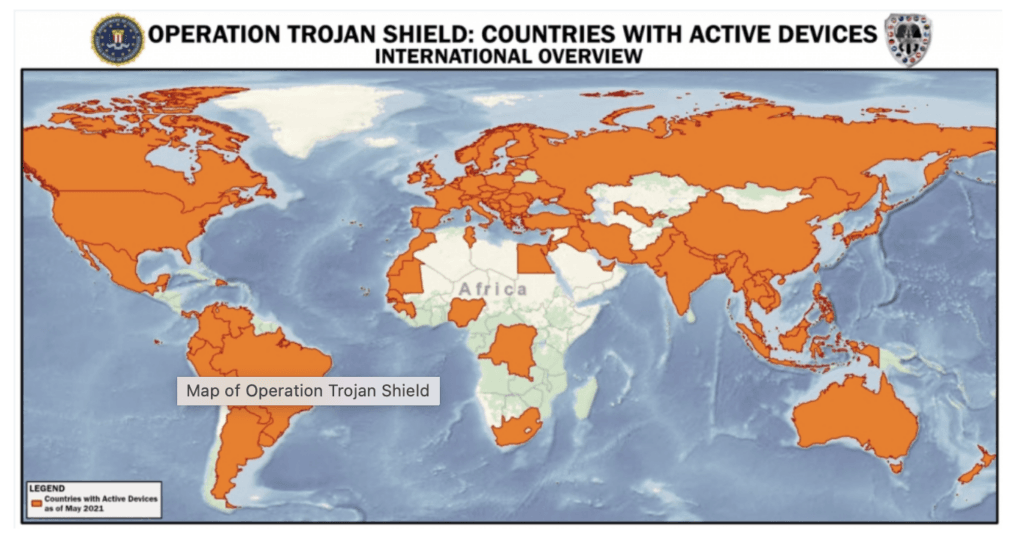 Image: FBI
Court documents list Ayub as a distributor for Anom involved in managing agent groups, subscription fees, the transfer of funds to the parent company, and technical support. 
Leading to the arrest of Ayub was Operation Trojan Shield, which began in 2018 and was led by San Diego FBI with partner foreign law enforcement organizations. The operation was a result of an investigation into a similar Canadian company called Phantom Secure which sold modified BlackBerry phones using an encrypted network of over 10,000 criminal users according to a 2021 FBI press briefing. Phantom Secure ultimately shut down soon after the arrests of its executives.
Following the demise of Phantom Secure, the demand for a new encrypted communication network was back, prompting the FBI to put a new device on the market through the Anom enterprise. For over 18 months, the criminals using the Anom platform believed that their conversations were safe from the eyes of law enforcement — meanwhile the FBI had recorded approximately 27 million messages. 
Operation Trojan Shield resulted in an estimated 800 arrests and the interception of drug trades in massive quantities. Turning their focus to Anom workers, the FBI alleged that all 17 Anom distributors knowingly marketed and sold their product exclusively to organized criminals and had issued wipe requests when devices were in the hands of law enforcement. Anom went so far as to use the marketing slogan, "designed by criminals, for criminals," according to the briefing.
The investigation uncovered material relevant to Ayub's trial with an estimated 3,500 communication files and about 14GB of data according to Motherboard.
Ayub is the first of the17 defendants to appear in court and begin judicial proceedings. According to the docket filing, Ayub's next hearing is set for June 10.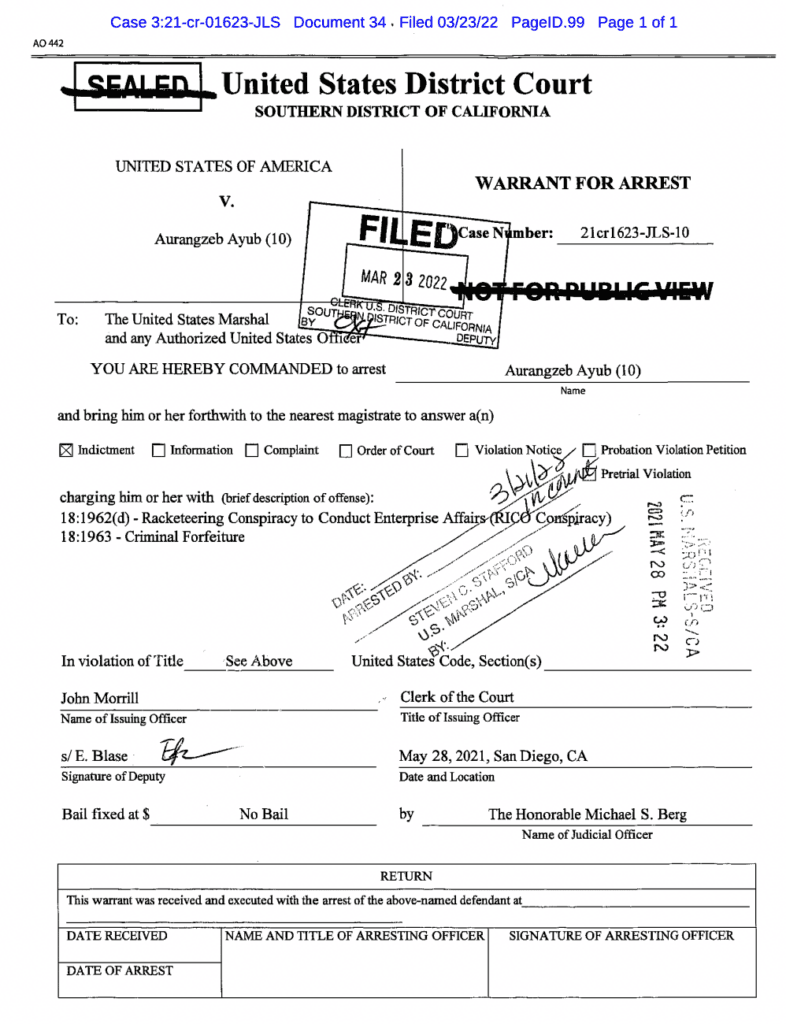 Unsealed arrest warrant for Ayub. Image: US District Court for the Southern District of California
Emma Vail
Emma Vail Emma Vail is an editorial intern for The Record. She is currently studying anthropology and women, gender, and sexuality at Northeastern University. After creating her own blog in 2018, she decided to pursue journalism and further her experience by joining the team.