UK military intelligence team wins Western Europe's 'largest cyber warfare exercise' held in Estonia
A team from British military intelligence placed first at a cyber warfare exercise described as "Western Europe's largest" hosted at the CR14 cyber range in Estonia, the Ministry of Defence (MoD) announced this week.
The exercise, titled Defence Cyber Marvel 2 (DCM2), was organized by the British Army and featured 34 teams from 11 countries, including the United Kingdom, India, Italy, Ghana, Japan, the U.S., Ukraine, Kenya, and Oman. It concluded on February 17th.
The specific tasks the teams had to take on were not disclosed, however the MoD described a seven-day competition in which participants responded to "common and complex simulated cyber threats including attacks to networks, industry control systems and unmanned robotic systems."
The challenges were "simulating some of the tactics Russia used to disrupt Ukrainian cyberspace in the early days of the invasion one year ago," the MoD stated.
It took place at the CR14 in Tallinn — the digital equivalent of a traditional military shooting range. The Estonian Ministry of Defence described the range when it opened in 2019 as "a system capable of imitating the functioning of a complex computer network and providing the opportunity to practice various cyber operations without endangering regular computer networks."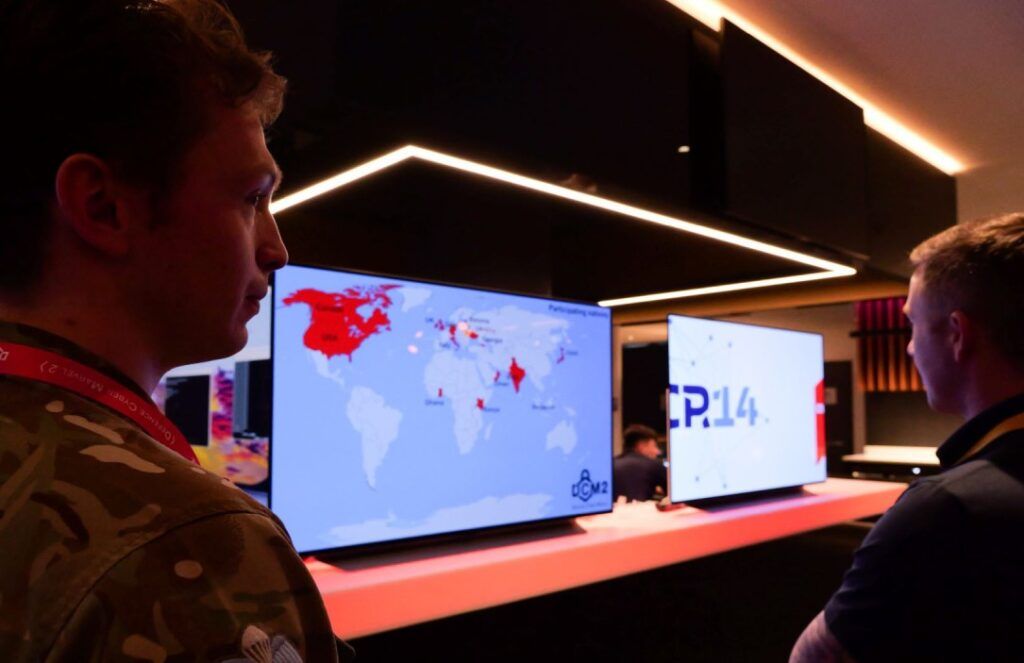 Image: UK Ministry of Defence
Since then, C14 has become the regular host of the annual Locked Shields exercises, organized by the NATO Cooperative Cyber Defence Centre of Excellence (CCDCOE) based in Tallinn. The CCDCOE exercise is not limited to NATO members, and participants have historically included Japan and Ukraine.
Each team that took part in DCM2 was judged on "the effectiveness and speed of their response and how quickly they identify and adapt to new threats - vital for developing war fighters for the digital age," explained the British MoD.
The winning team came from Britain's 7 Military Intelligence who competed remotely from Italy, while Tallinn-based 5 Military Intelligence "came a close second" MoD added.
Britain's defense secretary, Ben Wallace, said: "The modern battlefield is evolving at an unprecedented pace, it is therefore vital that our personnel are trained to adapt quickly in this crucial domain and can recognise cyber threats with capability and speed."
The wins "showcase the talent we already have in Defence," according to Lieutenant General Tom Copinger-Symes, deputy commander Strategic Command.
Military personnel taking part in the challenge "get to exercise and learn with folk from a vast array of different nations, backgrounds and specialisations - all united by a common purpose – to hone their skills to a fine edge, in order to protect our people, our prosperity and our principles," Copinger-Symes added.
Alexander Martin
Alexander Martin is the UK Editor for Recorded Future News. He was previously a technology reporter for Sky News and is also a fellow at the European Cyber Conflict Research Initiative.