Trinidad's largest supermarket chain crippled by cyberattack
The largest supermarket chain in Trinidad struggled to recover from a cyberattack that caused outages at all of its locations throughout the country this weekend. 
On Thursday, Massy Stores released a statement saying it was experiencing "technical challenges" with its front-end checkout systems that made it so products could not be purchased from its supermarkets and pharmacies.
"The company took immediate action, suspending all customer-facing systems, and has been working with third party experts to resolve the situation. Backup servers were not affected and the technical team is actively working with the expert teams to restore the system safely and in the shortest time possible," the company explained in a follow-up comment. 
"The company is not aware of any evidence at this time that any customer, supplier or employee data has been compromised or misused as a result of the situation."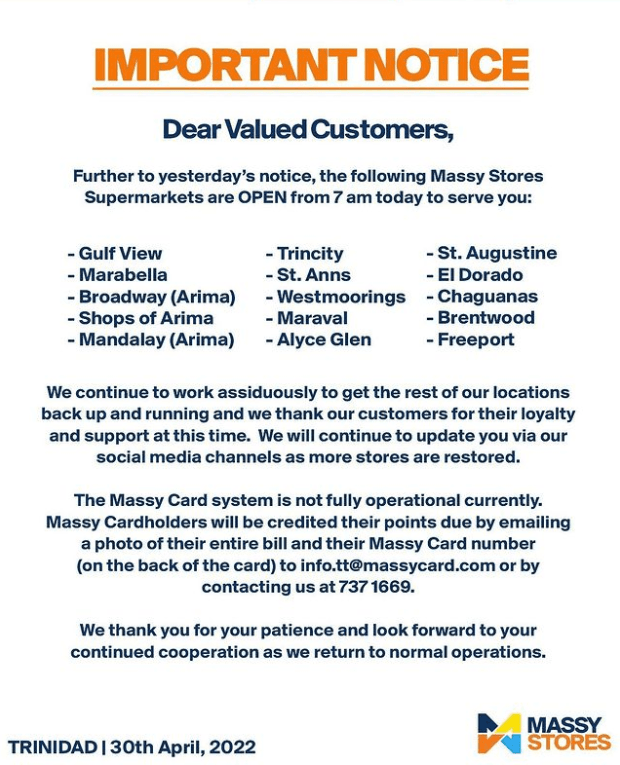 Massy Stores did not respond to requests for comment about whether it was a ransomware attack. 
By Saturday, the company was able to reopen some stores but its card system was still crippled by the attack. All of the company's stores reopened fully on Sunday but the card system continued to suffer from outages. 
The company – which has 21 locations across the country – claimed no customer or partner data was lost in the attacks but did not respond to requests for more information.
Several residents told The Trinidad Daily Express that they were in the supermarket when the cashier systems went down, forcing them to put down their goods and leave the store. Some thought the systems would eventually begin functioning again but gave up when it became clear the outage was serious. 
"I was going to stay around for a bit to see if the systems would have been back up and running, but time was against me so I left the items there and said I will return on Saturday," one woman told the newspaper. 
Last July, one of Sweden's largest supermarket store chains, Coop, was forced to shut down nearly 800 stores across the country after one of its contractors was hit by ransomware in the aftermath of the wide-ranging Kaseya security incident.
Get more insights with the
Recorded Future
Intelligence Cloud.
Learn more.
Jonathan Greig
Jonathan Greig is a Breaking News Reporter at Recorded Future News. Jonathan has worked across the globe as a journalist since 2014. Before moving back to New York City, he worked for news outlets in South Africa, Jordan and Cambodia. He previously covered cybersecurity at ZDNet and TechRepublic.