Swiss intelligence warns of fallout in cyberspace as West clamps down on spies
Switzerland's Federal Intelligence Service (FIS) is warning that cyberattacks conducted for espionage purposes — including those targeting critical infrastructure operators — are going to increase as a result of Western efforts to degrade Russia's human intelligence networks in Europe.
Intelligence services around the world will need to invest in their ability "to acquire data at home and abroad," the FIS stated in its annual situation report on Monday, primarily targeting "entities which manage particularly large volumes of sensitive data."
These entities include "financial service providers, state administrations and critical infrastructure operators," according to the intelligence service, alongside businesses such as hotels.
"Additional targets are technology firms which provide social media, communication services, search engines or even the digital monitoring of people's personal property and which collect information on users as they do so," cautioned the agency.
It explained that this cyber espionage was a "compensatory measure … where there has been a reduction in the number of intelligence staff deployed in the target countries."
European governments have expelled potentially hundreds of Russian spies working under diplomatic cover since the invasion of Ukraine. The head of the British domestic security service MI5 claimed that of the 600 diplomats made persona non grata across the continent, 400 were spies.
Despite the expulsions, the FIS warned that the war in Ukraine had created opportunities for the Russian intelligence services "to smuggle more of their own employees into Europe as refugees."
While this made it possible for some spies to "travel undetected and be admitted on a temporary basis," their refugee status doesn't provide the same level of access as having spies operating with diplomatic accreditation, and as such at least for a number of years this meant these people would not be effective replacements.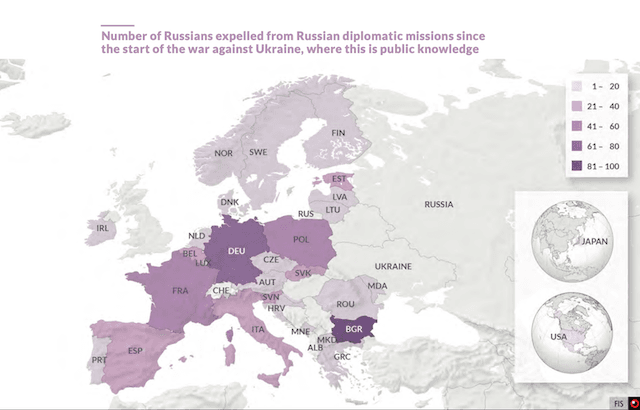 The warning from Switzerland echoes that made earlier this year by Denmark's security and intelligence service which said the expulsions could result in a new wave of undercover spies posing as "journalists or business people."
Swiss newspaper Neue Zürcher Zeitung reported that most of the Russian diplomats expelled from European host nations did not return to Moscow, but actually traveled to Switzerland.
"Switzerland is one of the states with the highest numbers of Russian intelligence officers operating under diplomatic cover, in part due to its role as a host to international organizations," reported the FIS.
The Swiss government is one of the few in Europe that has not publicly announced any expulsions of spies due to the country's policy of neutrality — although the newspaper Blick reported expulsions have happened discreetly — but despite this neutrality, it did adopt European Union sanctions against Russia following the invasion.
In her foreword to the annual report, Viola Amherd, the minister responsible for the agency, wrote: "While maintaining our neutrality, we nonetheless want to strengthen our cooperation with EU and NATO, because we want to contribute to European Security and because it is in our own security interest to do so."
Get more insights with the
Recorded Future
Intelligence Cloud.
Learn more.
Alexander Martin
Alexander Martin is the UK Editor for Recorded Future News. He was previously a technology reporter for Sky News and is also a fellow at the European Cyber Conflict Research Initiative.