Pro-Kremlin hackers target Latvia's parliament after declaring Russia a sponsor of terrorism
The pro-Russian hacker gang known as Killnet took down the website of Latvia's parliament on Thursday after lawmakers there designated Russia as a "state sponsor of terrorism."
The parliament's website went down for several hours after being hit by a distributed denial-of-service (DDoS) attack, which floods websites with junk traffic to make them unreachable. The attack didn't disturb the work of the parliament, known as the Saeima, "due to previously prepared defense solutions," according to Latvia's Computer Emergency Response Team (CERT.LV).
Killnet wrote about the attack on its official Telegram channel and posted a screenshot confirming that the website was down.
Earlier in May, Killnet declared "war" against nations that allied with Ukraine during its war with Russia. The list includes the U.S., the U.K., Germany, Italy, Latvia, Romania, Lithuania, Estonia and Poland. 
"These countries are attacked almost every time they declare support for Ukraine," said Yuriy Shchyhol, the head of Ukraine's State Special Communications Service, in an interview with The Record in July.
Latvia and Lithuania have been the most common targets. The Baltic countries, including Estonia, Latvia, and Lithuania, were formerly part of the Soviet Union and still have a large Russian-speaking minority.
However, since the start of Russia's full-scale invasion, they helped Ukraine with military aid, sheltered its refugees and created scholarships for Ukrainian students.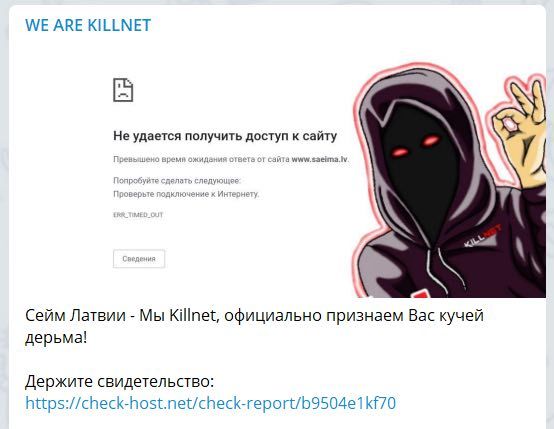 In July, Killnet hit Latvia with one of the biggest waves of cyberattacks in the country's history, including a 12-hour onslaught on its public broadcasting center, after Latvia announced the demolition of nearly 300 Soviet monuments.
"Never before has the situation in Latvia's cyberspace been so tense," said Baiba Kaskina, head of  CERT.LV. 
According to Kaskina, Latvia is attacked by hackers almost on a daily basis, with around 1,000 targets being hit on some days.
Earlier in June, Lithuanian government websites were bombarded by DDoS attacks for more than 10 days after the country blocked coal and metal exports to Russia. More than 130 websites were affected by the attack. 
Attack on Finland's parliament
Finland — another ally of Ukraine — was attacked on Wednesday by pro-Russian hacker group NoName057(16). The website of the Finnish parliament went down for several hours after it suffered a DDoS attack. 
Hackers said they "punished" Finland for its aspiration to join NATO. Russia considers NATO a "threat" to its national security and is trying to prevent its expansion, according to. The cyberattack on the Finnish parliament occurred the same day U.S. President Joe Biden announced his support for Finland and Sweden to join NATO.
Representatives for Finland and Latvia's parliaments did not immediately respond to requests for comment on Thursday.
According to cybersecurity experts, NoName057(16) and Killnet have worked together in the past. In late June they carried out several DDoS attacks against government websites in Italy, Romania, Germany, Norway, Lithuania, the Czech Republic and Latvia.
Daryna Antoniuk
Daryna Antoniuk is a freelance reporter for Recorded Future News based in Ukraine. She writes about cybersecurity startups, cyberattacks in Eastern Europe and the state of the cyberwar between Ukraine and Russia. She previously was a tech reporter for Forbes Ukraine. Her work has also been published at Sifted, The Kyiv Independent and The Kyiv Post.