Pennsylvania school district to stay open despite ransomware attack
A school district in Pennsylvania kept its doors open on Friday despite announcing a ransomware attack that caused disruptions to its computer systems.
On Thursday, the Chambersburg Area School District published a message on its website and social media channels announcing that it had become yet another K-12 school district attacked by a ransomware gang.
"As you are aware, we have been experiencing a network disruption affecting the operability of certain CASD computer systems. In working with various specialists, at this time we can confirm that this disruption is related to a ransomware event," district officials said.
"The ongoing work of the third-party forensic specialists to investigate the event and its impact on our systems has been running in parallel with efforts to restore full, secure functionality to our environment. We will continue to investigate to determine the full nature and scope of this event working alongside our subject matter specialists as well as law enforcement."
The district, which is about 30 minutes away from the state's border with Maryland and serves about 10,000 students, said all schools will open on a regular schedule on Friday.
After opening its doors for the first day of the school year last Wednesday, the school was shut down from Monday to Wednesday this week due to the attack. On Thursday, the school dealt with a two-hour schedule delay, with officials telling students to leave all Chromebook and iPad devices at home for the rest of the week.
"As we continue through this process our buildings may experience technical limitations with our systems and slow processing speeds. Due to the ongoing work of our IT staff and the specialists, students will not be able to access the internet and access to CASD buildings will not be permitted to guests and volunteers," the school district said on Wednesday.
No ransomware gang has taken credit for the incident but several hacking groups have made a point of targeting educational institutions over the last month as most K-12 schools, colleges and universities open their doors for the new school year.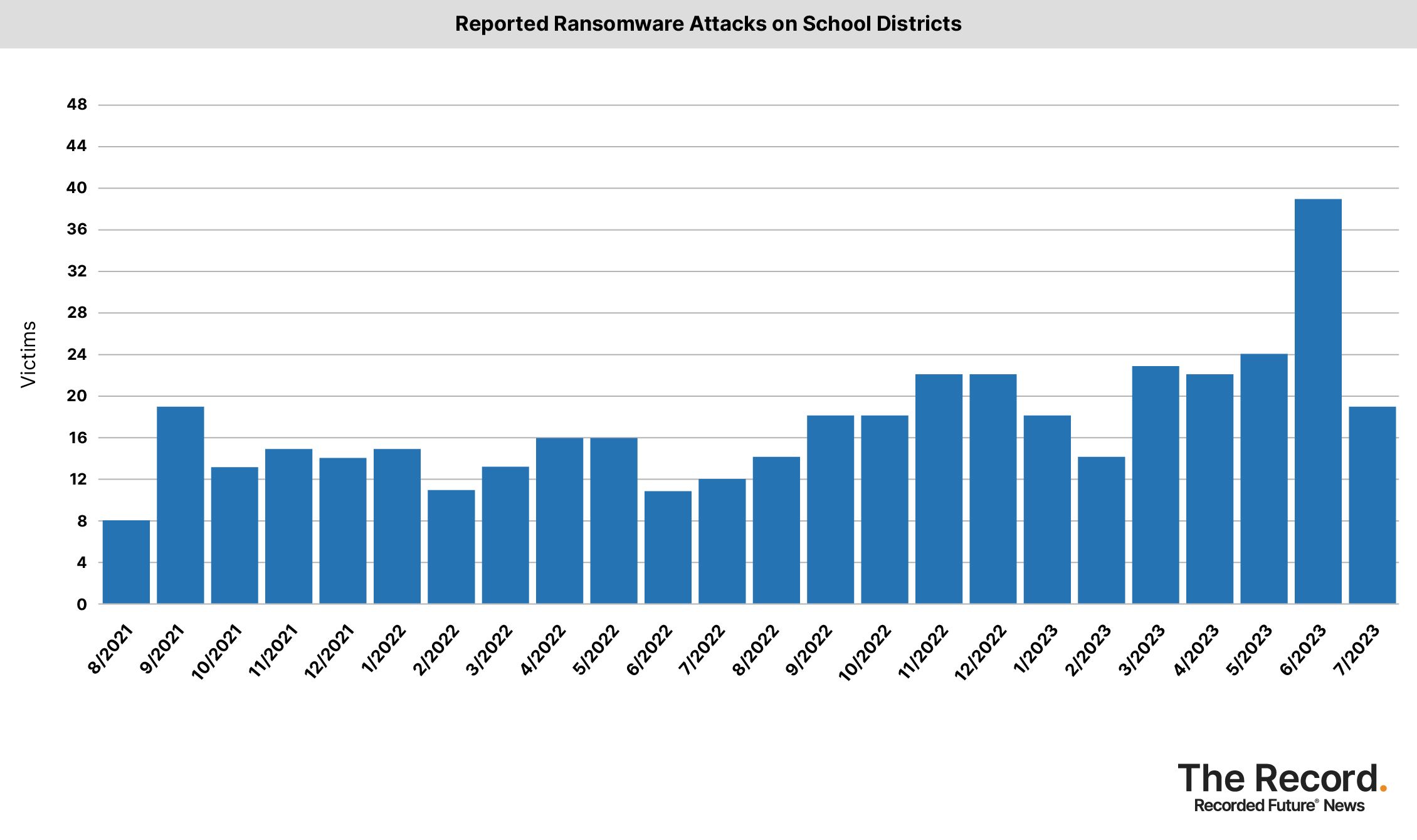 The University of Michigan was forced to sever its ties to the internet and cut off access to some systems after experiencing a cyberattack that began on Sunday.
Prince George's County Public Schools — one of the largest school districts in the United States — was disrupted by a cyberattack two weeks ago and since then, ransomware gangs have added dozens of K-12 schools to their leak sites.
Throughout the last school year, dozens of schools in Minnesota, Iowa, West Virginia, California, Pennsylvania, New Hampshire, Arizona, Massachusetts and more dealt with outages as well as the theft of sensitive student and employee data.
Get more insights with the
Recorded Future
Intelligence Cloud.
Learn more.
Jonathan Greig
Jonathan Greig is a Breaking News Reporter at Recorded Future News. Jonathan has worked across the globe as a journalist since 2014. Before moving back to New York City, he worked for news outlets in South Africa, Jordan and Cambodia. He previously covered cybersecurity at ZDNet and TechRepublic.