More than 2,000 cybersecurity patent applications filed since 2010: report
The number of cybersecurity patent applications has skyrocketed over the past decade, with U.S. companies leading the way. 
According to French software company IS Decisions, about 2,270 cybersecurity-related patents have been filed since the turn of the century. Nearly all – about 97% – have been filed since 2010, a year that marked a huge spike in global cyberattacks. 
The total number of cyberattacks increased about eightfold that year, according to a report by Kaspersky, while Stuxnet, the malicious computer worm that sabotaged Iran's nuclear weapons program, kicked off a decade of high-profile cyber incidents, like the Sony Pictures hack by North Korea's Lazarus Group and the takedown of the Silk Road dark web drug marketplace.
Facing escalating threats, countries have competed to find innovative new ways to prevent cyberattacks, and the data reveals there are clear winners when it comes to the offices receiving the most cybersecurity patent filings.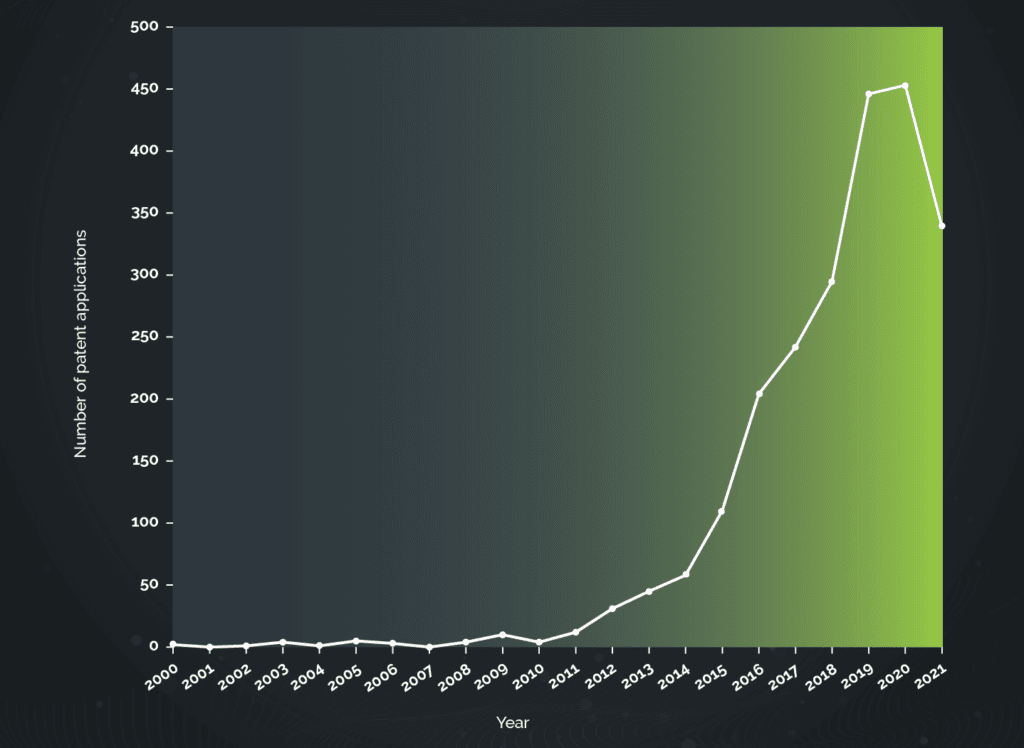 Cybersecurity patent applications per year. Image: IS Decisions
The U.S. Patent and Trademark Office tops the list with 1,087 cybersecurity-related patent applications filed between 2000 and 2022. With the world's largest cybersecurity workforce at approximately 1.1 million, it is no surprise that the U.S. leads the way in cyber innovations, researchers said.
Among the top 10 most prolific companies in applying for cybersecurity patents, five are based in the U.S., including IBM, Boeing, Microsoft, Honeywell, and Qomplx. 
International applications filed under the Patent Cooperation Treaty account for the next highest volume of cybersecurity-related applications, with 326 filed since 2000. International patent holders can defend and safeguard their intellectual property in all 156 member states of the World Intellectual Property Organization.
China, the world leader in the number of overall patent applications, only filed about 13% of global cybersecurity patents and ranks third. A 2014 study found that the quality of patent applications in China was subpar, which the Chinese government has made it a priority to improve.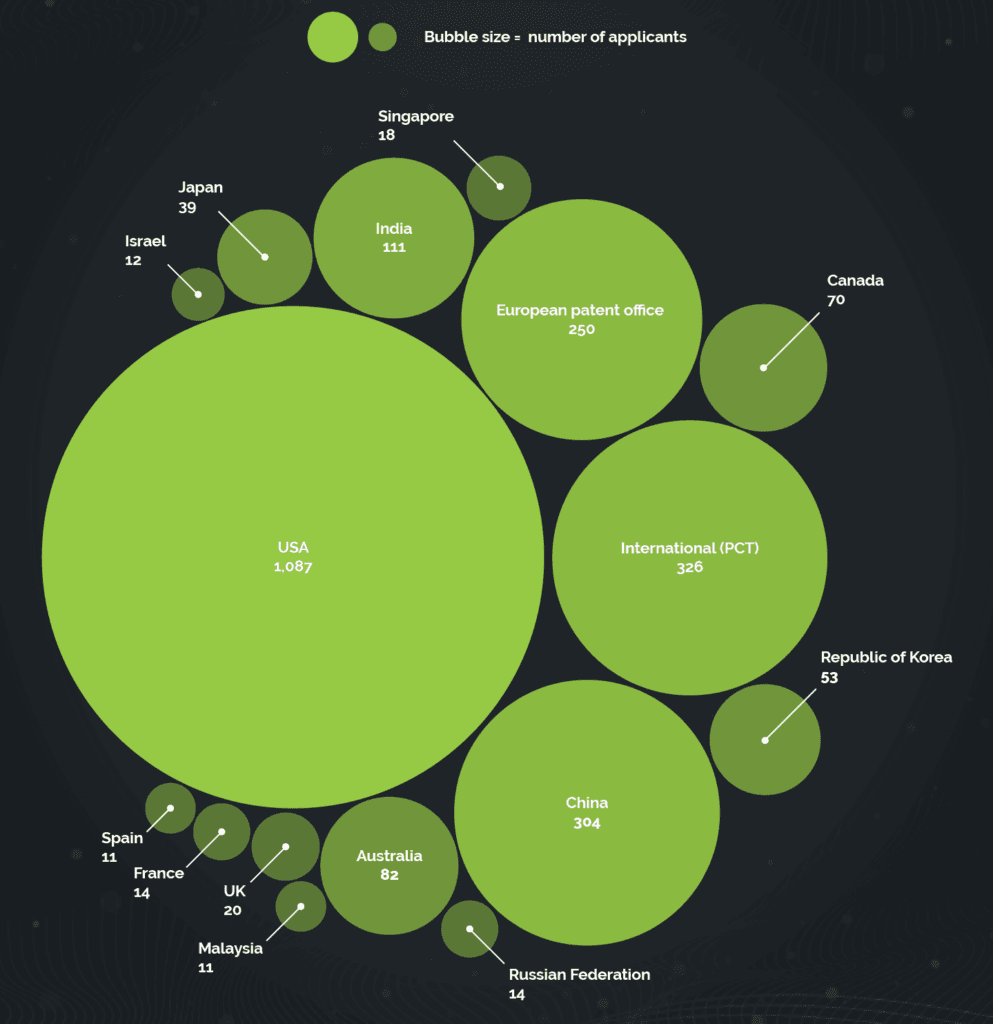 Cybersecurity patent applications by country. Image: IS Decisions
In the cybersecurity patent application world, one Сhinese company has been a major player — China Electronics Technology Group Corporation (CETC), its third largest electronics company. CETC applied for the most cybersecurity patents worldwide, followed by Honeywell and Israeli automotive cybersecurity company Argus Cyber Security.
According to IS Decisions, most patents involve the development of tools to counter denial-of-service (DoS) and distributed denial-of-service (DDoS) attacks. "These attacks are becoming more expensive and more advanced than ever before, highlighting that the risk is high and the need for prevention methods is greater than ever," the researchers said.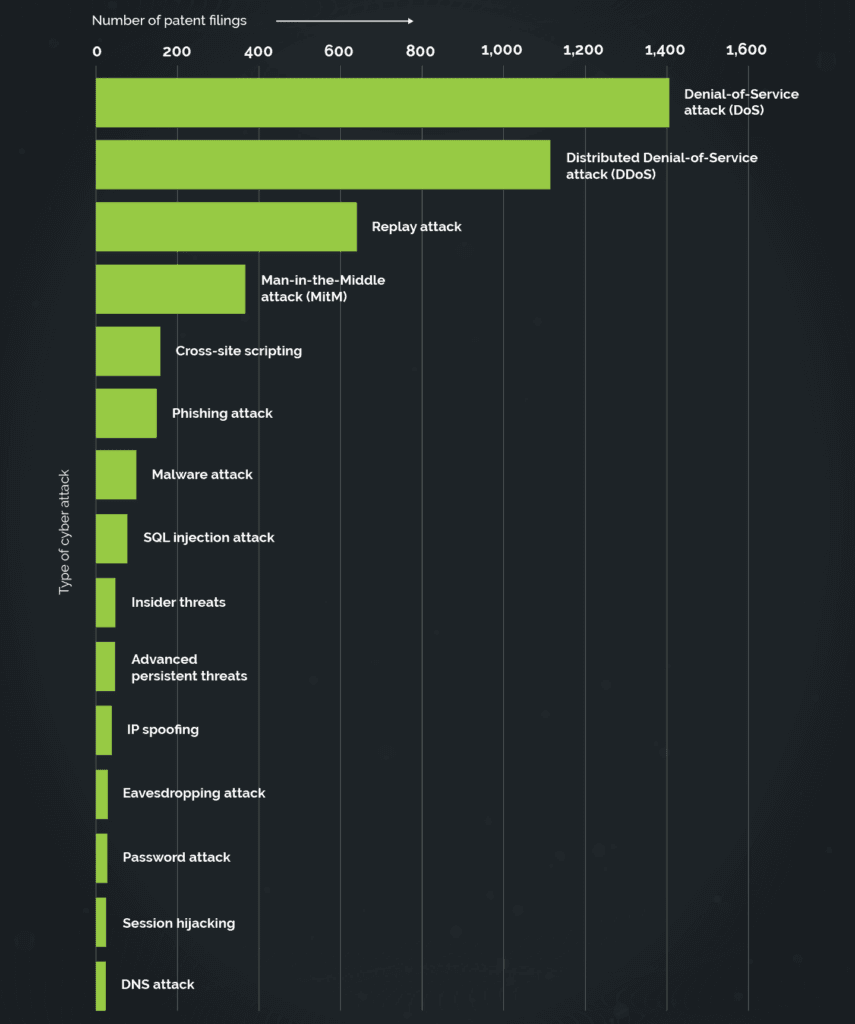 Cybersecurity patent applications by type of attack. Image: IS Decisions
Companies in the telecom industry – such as Japanese firm Nippon Telegraph & Telephone (NTT), South Korea-based Electronics & Telecommunications Research Institute (ETRI), and China Mobile – applied for the most DDoS and DoS-related patents.
Companies like Huawei, IBM, Samsung, and Philips mostly applied for patents related to preventing eavesdropping attacks, cross-site scripting, and replay attacks that allow criminals to impersonate genuine customers and perform account takeovers.
Tools against advanced persistent threats and malware attacks account for less than 2% of all patent applications, the researchers found.
Get more insights with the
Recorded Future
Intelligence Cloud.
Learn more.
Daryna Antoniuk
Daryna Antoniuk is a freelance reporter for Recorded Future News based in Ukraine. She writes about cybersecurity startups, cyberattacks in Eastern Europe and the state of the cyberwar between Ukraine and Russia. She previously was a tech reporter for Forbes Ukraine. Her work has also been published at Sifted, The Kyiv Independent and The Kyiv Post.