Man who helped Infraud cybercrime cartel steal millions of credit cards sentenced
A Brooklyn resident was sentenced to four years in federal prison this week after pleading guilty to being an integral member of the Infraud Organization, a cybercrime cartel that stole over four million credit and debit card numbers and cost victims more than $568 million dollars.
John Telusma – a 37-year-old who went by "Peterelliot" online – is the 14th member of the Infraud gang to be charged in connection to the group's activities, which the Justice Department said involved the "mass acquisition and sale of fraud-related goods and services, including stolen identities, compromised credit card data, computer malware, and other contraband."
Telusma joined Infraud in August 2011 and spent more than five years helping the group monetize their credit card theft. The group spent years marketing troves of stolen bank account information, PayPal accounts and more that gave members free rein to buy flights and concert tickets.
"Telusma was among the most prolific and active members of the Infraud Organization, purchasing and fraudulently using compromised credit card numbers for his own personal gain," the Justice Department said in a statement.
He pleaded guilty to one count of racketeering conspiracy in Nevada on Oct. 13, 2021.
At its peak, the group allegedly had 10,000 members and operated for more than seven years. According to the DOJ, the group's slogan was "In Fraud We Trust."
The group had members across the globe and the DOJ has already sentenced several members to lengthy prison sentences. After several undercover operations, U.S. officials partnered with law enforcement agencies across Europe, Australia and Asia to arrest 13 members of the group and shut down the Infraud website in February 2018.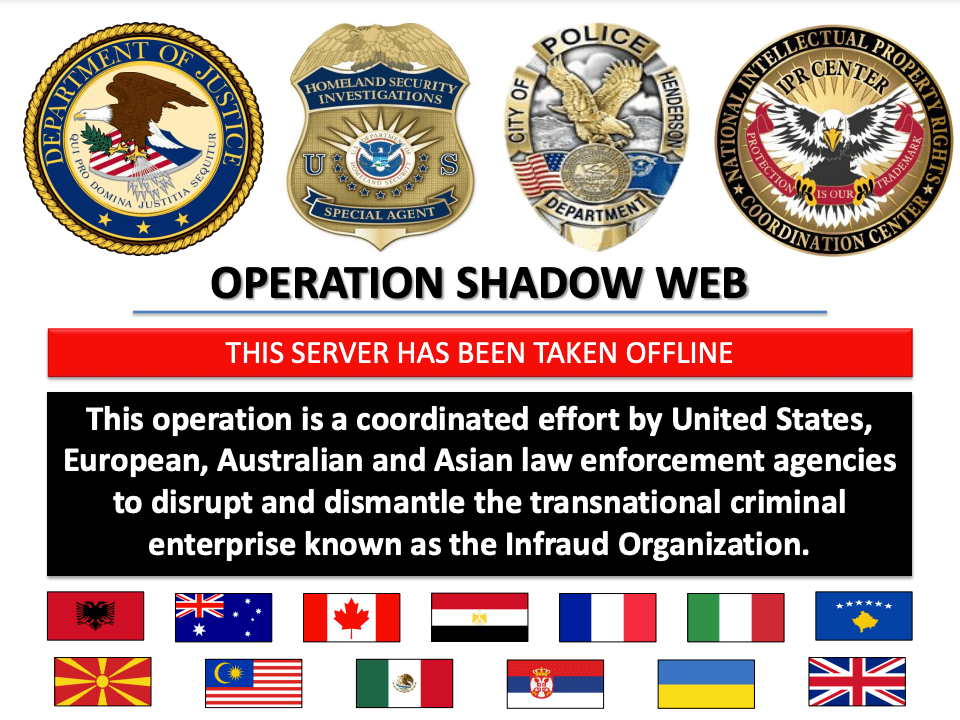 The image posted to the Infraud website after the raids in 2018. (DOJ)
Telusma was among the 13 arrested in the U.S., Australia, the UK, France, Italy, Kosovo and Serbia. A total of 36 people were indicted for helping to lead the cybercrime gang.
"Today's indictment and arrests mark one of the largest cyberfraud enterprise prosecutions ever undertaken by the Department of Justice," said Acting Assistant Attorney General Cronan at the time.  
"As alleged in the indictment, Infraud operated like a business to facilitate cyberfraud on a global scale. Its members allegedly caused more than $530 million in actual losses to consumers, businesses, and financial institutions alike – and it is alleged that the losses they intended to cause amounted to more than $2.2 billion."
Last year, the group's Russian co-founder Sergey Medvedev pleaded guilty and was sentenced to 10 years. He allegedly founded the group alongside Ukrainian hacker Syvatoslav Bondarenko in 2010. 
Marko Leopard, a 31-year-old North Macedonia national, also pleaded guilty alongside Medvedev and was sentenced to five years. 
The DOJ gave eight-year sentences to other members of the group, including Mexican member Arnaldo Sanchez Torteya and Venezuelan member Edgar Rojas. California residents Valerian Chiochiu and Jose Gamboa were also convicted and sentenced for their role in the gang alongside New York resident Pius Wilson. 
"Dismantling a cybercrime organization like Infraud requires aggressive pursuit of not only those who steal, sell, and use personal data, but also those who provide the infrastructure that allows cybercrime organizations to operate," said Acting Assistant Attorney General Nicholas McQuaid last year.
Andrey Sergeevich Novak, another leader of the group who was facing US charges, was arrested by the Russian Federal Security Service (FSB) in January. 
Jonathan Greig
Jonathan Greig is a Breaking News Reporter at Recorded Future News. Jonathan has worked across the globe as a journalist since 2014. Before moving back to New York City, he worked for news outlets in South Africa, Jordan and Cambodia. He previously covered cybersecurity at ZDNet and TechRepublic.