Iran, Venezuela accused of coordinating influence campaign to free Colombian businessman: report
Iran and Venezuela have allegedly been orchestrating a years-long influence campaign to free Alex Saab, a well-known Colombian businessman with ties to both countries. 
In a report from Recorded Future published Thursday, researchers said they found a widespread influence campaign centered around Saab, who was arrested in Cape Verde and extradited to the U.S. where he awaits trial on money laundering charges. The Record is an editorially independent unit of Recorded Future.
Saab is accused of helping Venezuela and Iran evade sanctions issued by the U.S. government. His arrest was criticized by several international organizations including the African Bar Association and Code Pink because of Saab's status as a diplomat of Venezuela.
The Department of the Treasury sanctioned Saab in 2019 for his work with the Venezuelan government, accusing him of laundering money through a Venezuelan government food subsidy program called the Local Committees for Supply and Production and siphoning millions for himself.
Venezuela sought to give Saab diplomatic immunity by appointing him as a special envoy to Iran in April 2020. He helped facilitate a deal in early 2020 where Venezuela exchanged about $500 million worth of gold for 1.53 million barrels of gasoline and petrochemical components from Iran. 
He continued his role as a facilitator between Iran and Venezuela until his arrest in June 2020 on the Cape Verde island of Sal. He was extradited to the U.S. in October 2021, and now faces several federal charges related to money laundering. 
He denied the charges in a 2021 interview with CNN, telling the news outlet that the accusations of money laundering are "unfounded, purely political, and artificially built by the authorities to serve political interests."
"Swiss authorities, known for their meticulousness and thoroughness spent three years investigating all the cash flows to and from specific accounts associated with myself. The investigation was concluded after they were unable to find evidence to sustain accusations of money laundering and corruption, the same allegations in which the U.S. accusation is based on," he said.
A 'disinformation' campaign
The first phase of the campaign began after Saab was arrested in Cape Verde, when a Nigerian public relations firm, Alpha Reach, and a now-defunct U.K.-based nonprofit Digital Good Governance for Africa (DIGA) recruited social media influencers and surrogates in Nigeria, Ghana and Senegal.
"These social media influencers/surrogates 'received a Saab campaign briefing document produced on the letterhead of Digital Good Governance for Africa' asking them to produce social media posts in support of Saab, almost certainly in order to increase negative public opinion surrounding court proceedings in Nigeria and Cape Verde, the African island nation where Saab remained under house arrest awaiting extradition to the US," the report found.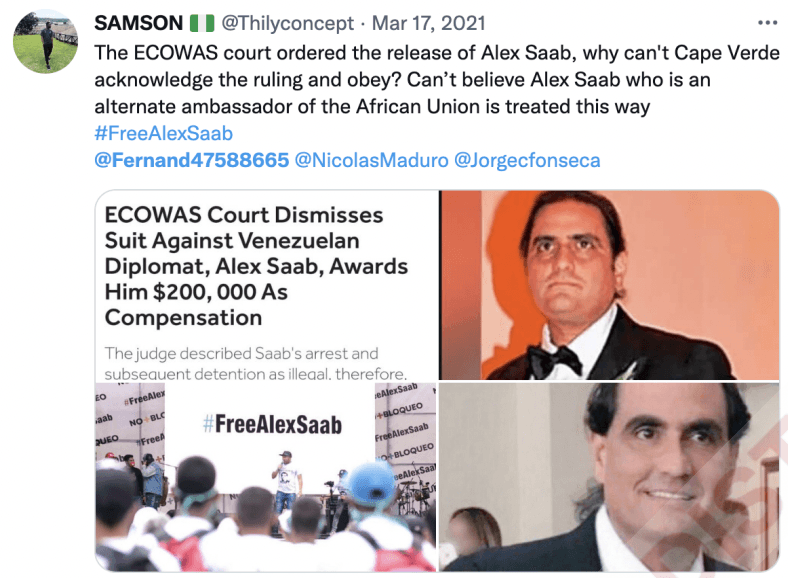 Alpha Reach is accused of recruiting about 40 Nigerian influencers to participate in the influence operation and the report notes that the influencers had more than one million social media followers in total. 
They were added to a WhatsApp group to coordinate the posts and were allegedly paid about $6.50 to $15 per post. Participants were told to post twice a week with the #FreeAlexSaab tag.
From January to February 2021, more than 1,500 social media accounts that posted the #FreeAlexSaab hashtag were disabled due to inauthentic behavior, according to Recorded Future. 
The campaign also involved social media influencers based in Accra, Ghana. 
"This influence conduit was very likely created to apply socio-political pressure on the Nigerian and Cape Verdean governments to release Alex Saab before his extradition back to the US," the researchers said. 
The report outlines several proxy organizations used by the Iranian and Venezuelan states to push the campaign, including Iran's HispanTV as well as Venezuela's teleSUR and Fuser News.
"Iran and Venezuela will very likely continue the Saab influence campaign in hopes of pressuring the U.S. toward a negotiation to exchange Saab, thus increasing amplification efforts through their influence networks ahead of Saab's trial, with a new date for the trial yet to be confirmed," the researchers said. 
"Iran's state-owned Islamic Republic of Iran Broadcasting (IRIB) company is very likely using its Latin American-facing news agency, HispanTV, to amplify content promoting mis- and disinformation in support of anti-US narratives... The Saab influence campaign is an example of how Iran is expanding its ideological and political influence in Latin America through narrative warfare."
Jonathan Greig
Jonathan Greig is a Breaking News Reporter at Recorded Future News. Jonathan has worked across the globe as a journalist since 2014. Before moving back to New York City, he worked for news outlets in South Africa, Jordan and Cambodia. He previously covered cybersecurity at ZDNet and TechRepublic.