How electronic warfare is reshaping the war between Russia and Ukraine
Drones have played an outsized role in Ukraine's efforts to locate troops and plan out attacks in its war with Russia. But the devices are increasingly thwarted by an invisible enemy: Russia's electronic warfare arsenal.
Electronic warfare systems have been used by both Russia and Ukraine in recent months to locate, disrupt and jam electronic and GPS signals from weapons and drones. The systems can be used by aircraft, naval ships, ground forces, and helicopters, according to Samuel Bendett, an analyst and expert in unmanned and robotic military systems at the Center for Naval Analyses.
Electronic warfare systems use signals such as radar, radio, and infrared transmissions to detect, interpret and disrupt communication. The stations detect enemy electronic signals and attack the equipment emitting them essentially with white noise, which makes them inoperable.
Although both countries have made use of the technology, Russia in particular has invested in a wide range of equipment — from tactical close-range systems to ones that can supposedly disrupt enemies dozens of kilometers away, Bendett said. And Russia has increasingly made use of these systems as cyberattacks and ground strikes against Ukraine's communications infrastructure have proved to have limited impact.
"[When] they realized that wasn't enough, they turned to electronic warfare," said Makena Young, associate fellow with the Aerospace Security Project at the Center for Strategic and International Studies (CSIS).
Disrupting drones
Electronic warfare technology isn't particularly new: Even before the war, Russia actively promoted its electronic warfare systems, according to Valentyn Badrak, director at Ukrainian Center for Army Conversion and Disarmament Studies. It used some of the same systems in previous conflicts, including the invasion of Crimea and eastern Ukraine in 2014 and the Syrian civil war in 2015.
But the systems have seen particularly heavy use in recent months as Russia looks to disrupt Ukraine's drone strategy.
Ukrainian charities have raised millions of dollars to purchase and develop unmanned aerial vehicles, and the country has launched piloting schools, including Dronarium and Boryviter, to train hundreds of professional drone operators. 
More than 400 pilots graduated from these two schools in July, according to the Ukrainian Digital Transformation Ministry.
Ukraine has no centralized supply of drones for the army — some soldiers buy drones themselves, and others receive them from friends, family or charitable funds. Small commercial drones, such as DJI quadcopters, are not designed for war, and make easy targets for sophisticated electronic warfare attacks, according to Bendett.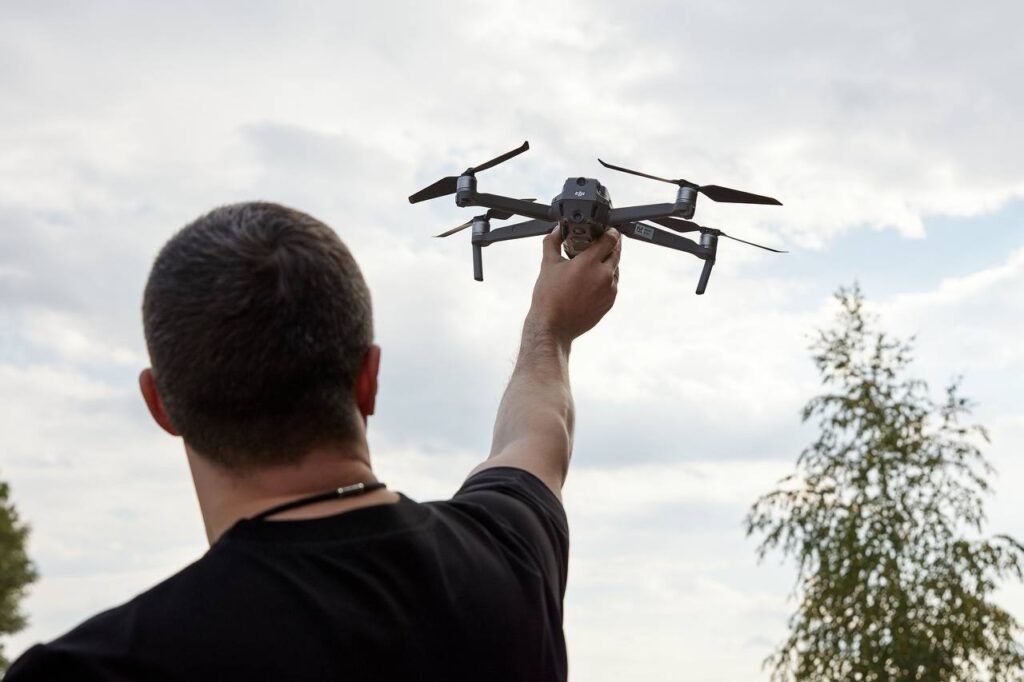 Ukrainian Minister of Digital Transformation Mykhailo Fedorov during a visit to Dronarium, a school that trains professional drone operators. Image: Mykhailo Fedorov/Telegram
In addition to small commercial drones used for surveillance, Ukraine's drone fleet has combat UAVs, like the Turkish Bayraktar TB2 and R18 developed by the Ukrainian drone unit Aerorozvidka.
But drone operators have found it difficult to keep these devices in the air.
"There are entire segments of the front where [Ukrainian drone operators] can't fly their drones since they are getting jammed by the Russian EW forces," Bendett said.
The Russian military is currently deploying Krasukha-2 and 4, R-330 Zhitel, Moskva-1, Leer-3, RP-377L/LA Lorandit, and Pole systems, among others, according to Bendett. They primarily target mobile networks, satellite navigation, and communication between drones and their operators, he said. 
Electronic warfare systems have already had a major impact, Ukrainian drone operators told The Record. Russia has claimed to have destroyed at least 1,700 Ukrainian drones since the start of the war, although Ukraine hasn't confirmed this figure.
"To say how many drones we lost, we need to know how many of them we had at the beginning of the war," said Vadym, the head of the robotics department at Aerorozvidka, who asked to go by his first name due to security reasons. 
Ukraine's efforts
Although Russia has many strengths with electronic warfare, Ukraine is trying to catch up, according to Badrak.
The Ukrainian electronic warfare arsenal is similar to Russia's — both countries inherited much of the technology from the USSR and developed systems together prior to the war. In Ukraine, the systems are developed by two private companies — Ukrspetszvyazok and Proximus. Among the most popular, uniquely Ukrainian electronic warfare systems, according to Badrak, are Enclave, Bukovel, and Prometheus-MF5. 
But Ukrainian systems face several challenges. Russia's most commonly-used drone in Ukraine, dubbed "Orlan," can fly at an altitude of 5,500-6,500 meters, where Ukrainian electronic warfare systems can't reach, Ukrainian Colonel Dmytro Kashchenko said in an interview with the Ukrainian media.
Another challenge for the Ukrainian army is Russia's possible deployment of Iranian drones on the battlefield, which are more resistant to electronic warfare systems, according to Badrak. Russia has reportedly signed a contract with Iran to buy 1,000 drones for its army, according to war correspondent Elijah J. Magnier.
Wider impacts
In addition to disrupting drones, electronic warfare has been used to block communications in Ukraine.
Because of this, most of the Ukrainian military uses the U.S. L3Harris systems, which are more secure, according to Badrak. Ukrainians also use Elon Musk's satellite internet Starlink, which is not as affected by Russian electronic warfare systems. "The Russians can locate Starlink terminals, but deciphering the internet stream is very difficult, so we recommend using them," according to Vadym from Aerorozvidka.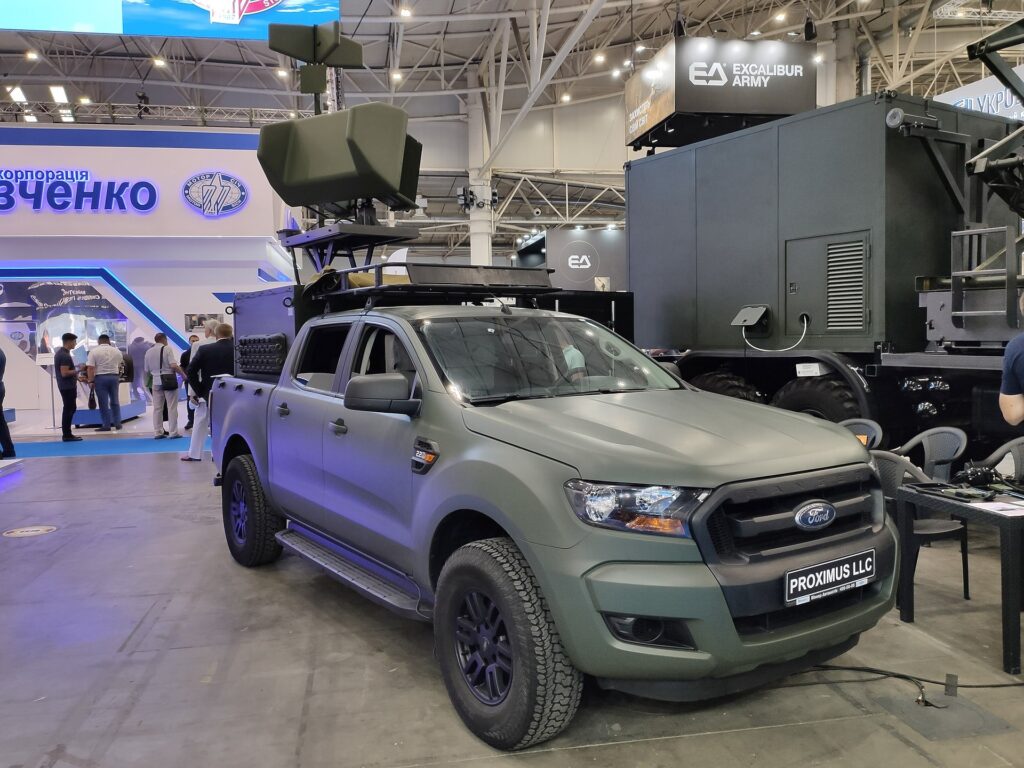 Ukrainian anti-drone electronic warfare system Bukovel-AD at a 2021 exhibition in Kyiv. Image: Wikimedia Commons
Musk has tweeted that the systems have been targeted by attacks. "Starlink has resisted Russian cyberwar jamming and hacking attempts so far, but they're ramping up their efforts," he wrote.
Although some alternative communication channels exist, there isn't always a way for Ukrainians to protect themselves from Russian electronic warfare systems, according to Bendett. Improving defense involves masking, protecting, and limiting "electronic signatures," including radio and cellular communications and electronic signals emitted by combat vehicles and systems, he said.
According to Young, "the best way to protect yourself from EW is to make sure your equipment is less vulnerable to these systems and that all of your communications are secure."
Electronic warfare-resistant equipment is already under development. U.K.-based technology and defense aerospace company QinetiQ, for example, has introduced a new laser-controlled drone that can eliminate the radio connection.
"Most drone manufacturers have taken notice and will look for ways to avoid the impact of EW," according to Vadym. "There is a solution to any problem, but it takes time," he said.
For now, the conflict is revealing what war will look like in the future, according to Young. 
"Space and cyber capabilities have been used during this war in ways we have never seen before. It's a quick and easy way to disrupt someone's communication," she told The Record.
Get more insights with the
Recorded Future
Intelligence Cloud.
Learn more.
Daryna Antoniuk
Daryna Antoniuk is a freelance reporter for Recorded Future News based in Ukraine. She writes about cybersecurity startups, cyberattacks in Eastern Europe and the state of the cyberwar between Ukraine and Russia. She previously was a tech reporter for Forbes Ukraine. Her work has also been published at Sifted, The Kyiv Independent and The Kyiv Post.