Three hackers given multiple-year sentences for SSN fraud, identity theft
Three people were handed years-long sentences in federal court on Wednesday for a range of crimes connected to a widespread hacking and identity theft campaign. 
Alessandro Doreus, Jean Elie Doreus Jovin and Djouman Doreus pleaded guilty to conspiracy to commit fraud and aggravated identity theft in September 2021. Prosecutors said they defrauded hundreds of people from 2015 to 2020 by gaining access to Social Security numbers, account numbers, usernames and passwords.
U.S. District Judge Gregory Presnell gave 29-year-old Florida resident Alessandro Doreus and 34-year-old Georgia resident Jovin sentences of six years and nine months in federal prison. Djouman Doreus, 29 years old and also a Floridian, was handed a five-year sentence.
The trio used the stolen information to take out loans, open credit cards and create financial accounts, frequently emailing each other files containing thousands of names, Social Security numbers, and dates of birth.
In at least one instance, they used the fraudulently opened credit cards to pay fake vendor accounts that Jovin opened and controlled.
They also filed fraudulent tax returns as a way to get refunds from the IRS. Law enforcement found that Jovin purchased stolen credentials on a dark web marketplace that gave him access to computer servers. The Justice Department said Jovin shared these compromised server credentials with Alessandro Doreus.
They managed to evade law enforcement by opening dozens of email accounts. They were eventually stopped in August 2020 when the FBI executed a search warrant at the home of Alessandro Doreus and found the information of at least 300 people. During the raid, the FBI seized nearly $500,000 that they believe resulted from the group's scams. 
"The Doreus trio wrongly assumed that their crimes would be untraceable, hidden under a cloak of internet anonymity," said IRS-CI Special Agent in Charge Brian Payne.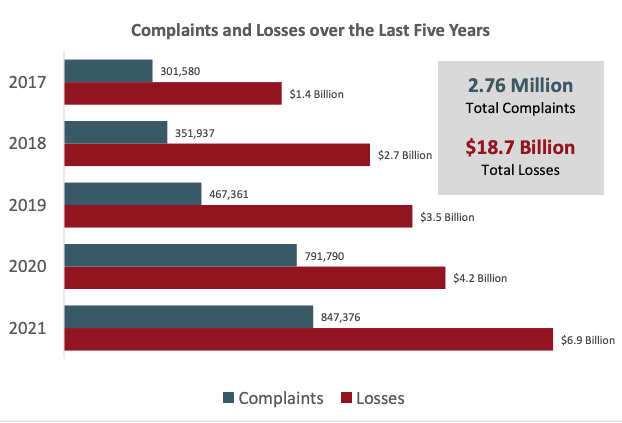 IMAGE: FBI IC3
Nearly $7 billion was lost through internet crimes in 2021, surpassing a record set in 2020 by about $1.7 billion, according to the FBI's annual Internet Crime Report.
The center received 847,376 complaints throughout the year, with most concerning ransomware, business e-mail compromise (BEC) schemes, and the criminal use of cryptocurrency. It represents a 7% increase compared to 2020 and the FBI received an average of more than 2,300 complaints each day.
Paul Abbate, deputy director of the FBI, said BEC crimes led to 19,954 complaints with an adjusted loss of nearly $2.4 billion in 2021. 
Jonathan Greig
Jonathan Greig is a Breaking News Reporter at Recorded Future News. Jonathan has worked across the globe as a journalist since 2014. Before moving back to New York City, he worked for news outlets in South Africa, Jordan and Cambodia. He previously covered cybersecurity at ZDNet and TechRepublic.