Google sues alleged scam site operator who ran fake basset hound puppy mill
Google said on Monday that it has filed a lawsuit against someone accused of using a web of fake websites and Google products to market a fraudulent basset hound puppy business targeting the elderly. 
Google's CyberCrime Investigation Group manager Albert Shin and senior counsel Mike Trinh said in a blog post that the alleged culprit – named Nche Noel Ntse in the lawsuit – "used a network of fraudulent websites that claimed to sell basset hound puppies — with alluring photos and fake customer testimonials — in order to take advantage of people during the pandemic."
The lawsuit says Ntse is based in Cameroon and "runs multiple non-delivery websites that deceive and defraud internet users in the United States." 
"Some of these fraudulent websites purport to sell adorable puppies, and victims are tricked into believing the websites are legitimate because of their alluring photos of purebred puppies and compelling testimonials from supposedly satisfied customers," Google explained. 
"But Defendant does not actually sell puppies, and instead is running multiple international non-delivery scams with the intent to exploit the COVID-19 pandemic and the resulting high demand for puppies in the U.S."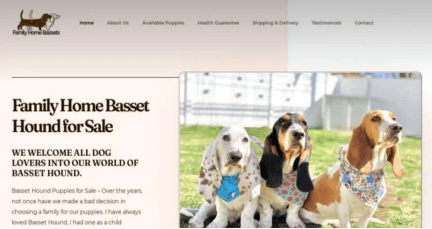 According to Google, Ntse violated their terms of service by using Gmail, Google Voice and several other Google services to perpetrate the scam through dozens of fraudulent Google accounts. 
The tech giant said it spent more than $75,000 investigating Ntse's scam and was originally tipped off by the AARP Fraud Watch Network.
AARP said one victim based in South Carolina visited familyhomebassetthounds[.]com before contacting familyhomebassethound@gmail[.]com. 
Ntse allegedly asked for $700 in gift cards before asking for an extra $1,500 to deliver the puppy. The victim paid but never received the puppy. 
Google was eventually able to tie the email address to a web of accounts linked to Ntse and his Cameroonian phone number. Google even found several Google Ads accounts that ran campaigns promoting the fraudulent websites.
Google said it was aiming for Ntse to pay damages and be blocked from using their products. 
"The Better Business Bureau recently announced that pet scams now make up 35% of all online shopping scams reported to them, and this particular scam targeted people at their most vulnerable, just as the pandemic led to a record spike in people wanting to own pets," Shin and Trinh wrote, noting that according to Google Search Trends, searches for "Adopt a Dog" spiked at the start of the pandemic as people spent more time at home. 
"That's why we're taking proactive action to set a legal precedent, protect victims, disrupt the scammer's infrastructure, and raise public awareness. Of course, legal action is just one way we work to combat these types of scams."
They added that their CyberCrime Investigation Group routinely investigates a variety of scams and refers certain cases to the Justice Department and other agencies.
Google suggested people see a pet in person before sending money. They also should verify payment methods, reverse image search pets and do a thorough search online of the seller. They noted that if no search results pop up, the name and address "are likely fake."
Get more insights with the
Recorded Future
Intelligence Cloud.
Learn more.
Jonathan Greig
Jonathan Greig is a Breaking News Reporter at Recorded Future News. Jonathan has worked across the globe as a journalist since 2014. Before moving back to New York City, he worked for news outlets in South Africa, Jordan and Cambodia. He previously covered cybersecurity at ZDNet and TechRepublic.