Google files lawsuit accusing 'G Verifier' scammers of impersonating company
Google announced on Tuesday that it has filed a lawsuit against a company allegedly impersonating it through telemarketing calls and manipulating reviews of Business Profiles on Google Search and Maps.
A Google spokesperson shared dozens of reports sent to them from people who said they had been scammed by the company – which went by "G Verifier" – by attempting to charge people for creating Business Profiles, something Google provides for free. 
"They also created websites advertising the purchase of fake reviews, both positive and negative, to manipulate reviews of Business Profiles on Google Search and Maps. This practice exploits entrepreneurs and small businesses — and it violates our policies on deceptive content," Google lawyer Jon Vermandel and Technical Program Manager Ian Williams said in a blog post. 
"Today's legal action is one part of our ongoing commitment to protect people, fight fraud, and do our part to stop malicious actors. This is important because scams disproportionately target individuals, small businesses and those without the resources to protect themselves. It's key to establishing legal precedent for a safer web."
The profiles are tools that allow owners to control how their business appears in Google Search and on Google Maps. 
Vermandel and Williams noted that in 2021 Google stopped more than 12 million attempts from bad actors to create fake profiles and nearly eight million attempts from bad actors to claim profiles that didn't belong to them.
In many of the complaints Google shared from victims of the scam, people said they were called by someone from "G Verifier" and told that they had to pay $99 or their account would be suspended, making it impossible for their business to be found on Google. 
When one victim pressed the caller about the service being free, the scammer allegedly said Google was changing the program and re-verifying companies to make sure they were still open during the COVID-19 pandemic. 
Others were told they would lose their five-star reviews if they did not pay and some said they did hand over account credentials that led to further issues. In some cases, the scammers also allegedly offered to flood a profile with positive reviews for payment. 
In the lawsuit, Google said the G Verifier company was registered in Columbus, Ohio and run by someone named Kaushal Patel. Patel is accused of opening up other shell companies to run the scam.
In addition to a range of scams, Google accused the companies of misusing the Google logo and other company signage to legitimize the fraudulent enterprises.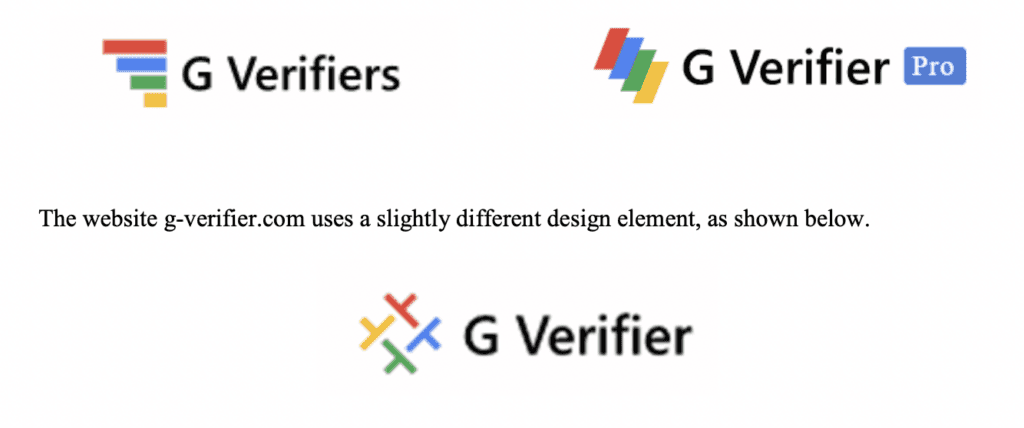 Image: Google
Patel and others are accused of running the scam through gverifiers.com and gverifierpro.com. During the scam calls, Google accused the perpetrators of telling victims they could also increase their ranking in Google search if provided with payment. 
"These statements, which imply superior placement among organic search results, are false and deceitful. No service can guarantee that Google's search engine, which uses a complex algorithm, will place a particular webpage on the first page of results, much less that it will be the very first result," Google said. 
"Since approximately December 2021, hundreds and hundreds of Business Profile merchants have contacted Google to complain about G Verifier's harassing and deceptive scheme. Many of these merchants failed to realize that they had been scammed until after they had paid G Verifier."
The lawsuit accuses the scammers of copyright infringement, false advertising, telemarketing fraud and deceptive trade practices.
Google noted that this is the third major lawsuit they have filed against scammers abusing their services after suing cybercriminals running fraudulent puppy mills earlier this year and hackers using the Glupteba botnet last year. 
Get more insights with the
Recorded Future
Intelligence Cloud.
Learn more.
Jonathan Greig
Jonathan Greig is a Breaking News Reporter at Recorded Future News. Jonathan has worked across the globe as a journalist since 2014. Before moving back to New York City, he worked for news outlets in South Africa, Jordan and Cambodia. He previously covered cybersecurity at ZDNet and TechRepublic.