FSB detains administrator of UniCC carding forum
The Russian Federal Security Service (FSB) has arrested the administrator of the UniCC carding forum and one of the members of the Infraud cybercrime cartel.
The suspect was identified as Andrey Sergeevich Novak and was detained for two months on charges of computer crimes and money laundering.
Three other suspects, identified as Kirill Samokutyaev, Konstantin Vladimirovich Bergman, and Mark Avramovich Bergman, were also detained and subsequently placed under house arrest.
Prior to his arrest, Novak was known on underground cybercrime forums under nicknames such as Faxtrod, Faaxxx, and Unicc, and was the administrator of UniCC, a forum where threat actors gathered to buy or sell stolen payment card data.
On January 12, the site announced that it would voluntarily close down, citing the administrators' intention to retire, and advised users to withdraw their funds within ten days.
At the time, blockchain analysis company Elliptic estimated that the site's staff had made at least $358 million in cryptocurrency from the sale of stolen cards since 2013 when it launched.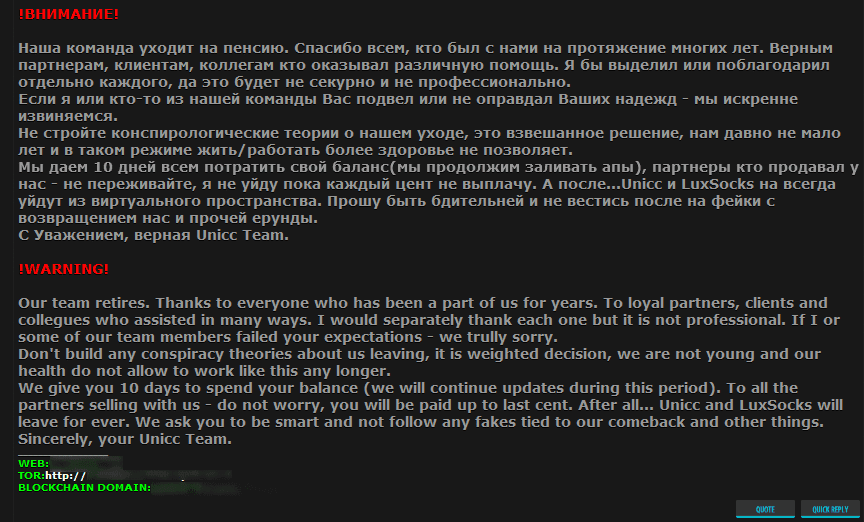 Novak is also wanted by the US Federal Bureau of Investigation since February 2018 for his role in Infraud; a sprawling cybercrime cartel focused on financial fraud.
Per its constitution, Russia does not extradite citizens to other countries, which means that Novak will most likely face charges in Russia only.
Russian state news agency TASS first reported the arrests citing an FSB source and documents from Moscow's Tverskoy District Court. The FSB has not made any formal announcement on Novak's arrest.
News of the FSB's crackdown against Novak, UniCC, and Infraud comes a week after the FSB arrested 14 members of the REvil ransomware group.
Get more insights with the
Recorded Future
Intelligence Cloud.
Learn more.
Catalin Cimpanu
Catalin Cimpanu is a cybersecurity reporter for The Record. He previously worked at ZDNet and Bleeping Computer, where he became a well-known name in the industry for his constant scoops on new vulnerabilities, cyberattacks, and law enforcement actions against hackers.