DOJ arrests, indicts Russian nationals behind popular e-book pirating site after shutdown
The Justice Department announced charges on Wednesday against two Russian nationals accused of running a popular pirated e-book site used by thousands of students, professors and more across the world. 
In a statement, the DOJ said 33-year-old Anton Napolsky and 27-year-old Valeriia Ermakova were arrested in Cordoba, Argentina on November 3 and are now facing several copyright infringement, wire fraud and money laundering charges related to their operation of Z-Library. 
On Wednesday, the Justice Department unsealed the charges in a Brooklyn federal court against Napolsky and Ermakova – both of whom are from St. Petersburg. 
"As alleged, the defendants profited illegally off work they stole, often uploading works within mere hours of publication, and in the process victimized authors, publishers and booksellers," said Breon Peace, United States Attorney for the Eastern District of New York 
Michael Driscoll, Assistant Director-in-Charge at the FBI, added that the two ran Z-Library for more than a decade. 
The Justice Department's move to take Z-Library's domains offline caused outrage among students across the globe who used the site to access pirated versions of expensive textbooks and manuals inaccessible in some parts of the world. 
Z-Library called itself the "the world's largest library" and claimed to have at least 11 million e-books for download since 2009. The DOJ said Z-Library also operated a "complex network of approximately 249 interrelated web domains" that were taken down as part of the enforcement action."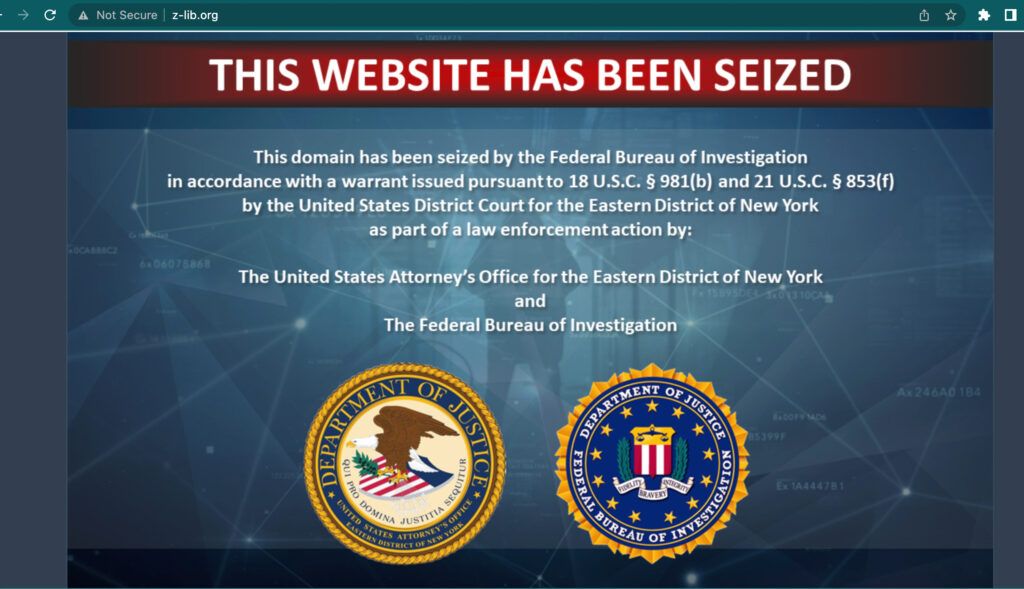 The two were arrested in Argentina at the request of U.S. authorities and the site was shut down just two days after their capture. The sites z-lib.org, b-ok.org, and 3lib.net now display a DOJ notice that they have been seized. 
The site started out as a free venture but eventually Napolsky and Ermakova began offering paid subscriptions and promoted it online using Google Ads, according to court documents. Records obtained from Google and Amazon tied Napolsky to the sites. 
The Author's Guild sent a letter last month to the Office of the United States Trade Representative about Z-Library, criticizing the fact that the site was able to operate freely and noting its popularity on TikTok. They noted that the hashtag #zlibrary on social media platform TikTok has 19 million views.
"Intellectual property theft crimes deprive their victims of both ingenuity and hard-earned revenue," Driscoll said. "The FBI is determined to ensure those willing to steal and profit from the creativity of others are stopped and made to face the consequences in the criminal justice system."
Jonathan Greig
Jonathan Greig is a Breaking News Reporter at Recorded Future News. Jonathan has worked across the globe as a journalist since 2014. Before moving back to New York City, he worked for news outlets in South Africa, Jordan and Cambodia. He previously covered cybersecurity at ZDNet and TechRepublic.