DISH says 'system issue' affecting internal servers, phone systems
Satellite broadcast giant DISH said a "systems issue" with its corporate network was affecting several services after customers noticed that the company website and multiple subsidiaries were experiencing problems.
In addition to trouble accessing DISH websites and customer service channels, some customers said they could not log into certain channels using their DISH login information. Others complained of being unable to pay their bills due to the outages.
"We experienced a systems issue in our corporate network on Thursday that is continuing to affect internal servers and telephone systems, and we are actively investigating it. Our DISH TV, Sling TV, Wireless services, and data networks continue to operate and are up and running," a company spokesperson told The Record.
"However, some of our corporate communications systems, customer care functions, and websites were affected. Our teams are working hard to restore affected systems as quickly as possible."
In a follow-up statement on Sunday night, the spokesperson said they are still investigating the issue.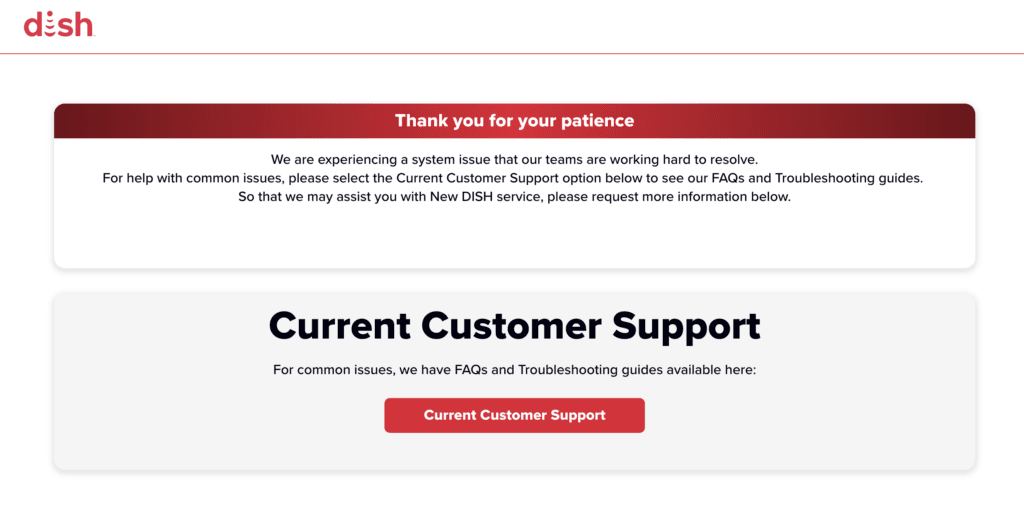 The Dish website showing the outage. Image: Dish
When customers contacted the company online, the DISH customer service account responded with a similar message, blaming an "internal systems issue" for problems customers were having with customer service operations. 
"We'll be able to help you out as soon as our systems are back up," the company said in response to several Tweets.
Some customers also reported issues with the website for wireless provider Boost Mobile – which is owned by DISH – but it was up and running as of Monday morning.
DISH would not say what caused the outage, but unsubstantiated rumors spread online that the issues were the result of a cyberattack.
I'm going to speculate but I think Dish got hacked. https://t.co/parDKO4kPt is down, along with their call center is completely down. My wife couldn't login to her VPN for work. This is really bad. You think it would've been up by now.. #dish #dishnetwork

— ArmedScubaSteve (@ArmedScubaSteve) February 23, 2023
The Verge initially reported that employees were given little information about internal issues with company VPNs and other anonymous employees told BleepingComputer that it was in fact caused by a cyberattack.
The outlet reported that some employees were seeing "blank icons" on their screen late in the week and others were outright being told that the issues were caused by "a known threat agent." 
Jonathan Greig
Jonathan Greig is a Breaking News Reporter at Recorded Future News. Jonathan has worked across the globe as a journalist since 2014. Before moving back to New York City, he worked for news outlets in South Africa, Jordan and Cambodia. He previously covered cybersecurity at ZDNet and TechRepublic.