Dark web marketplace White House Market shuts down
The operators of White House Market, a dark web underground marketplace for the trade of illegal goods, have shut down their operation last week with a "We are retiring!" message, almost exactly two years after the portal launched.
"We have reached our goal and now, according to plan, it's time to for us to retire," the WHM administrator wrote on the site's homepage and in a Dread thread, in a message cryptographically signed with their GPG key.
Thanks everybody for your business, trust, support and of course for placing decent amounts of money in our pockets.  We may come back some time in the future with a different project or we may not. Meanwhile be on the lookout for phishing or copycats, if it's not signed by us it's not us.

Mr_White, WHM administrator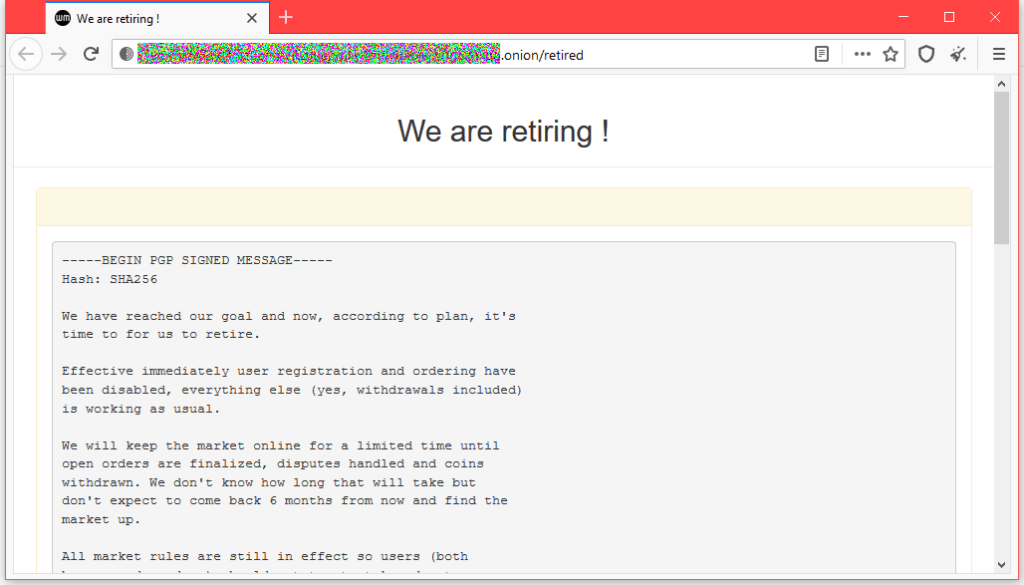 The site, which operates like an Amazon and eBay-like market, disabled the registration of new accounts and the posting of new listings following their retirement announcement.
Sellers were also told to prepare to move their listings and products to other dark web markets.
"We will keep the market online for a limited time until open orders are finalized, disputes handled and coins withdrawn. We don't know how long that will take but don't expect to come back 6 months from now and find the market up," the site's admin said.
White House Market shuts down two years after it launched
Launched in October 2019, the White House Market was only accessible via the Tor network. According to a counter on its home page, WHM claimed it had almost 895,000 registered users, 3,450 vendors, and nearly 47,500 listings.
While the site was used for advertising a wealth of illegal products, WHM was primarily known for its narcotics section, with most sellers operating across European territories.
Other products sold on the site included carding, malware, and counterfeiting-related services, but also military-grade gear, such as weapons, body armor, jamming equipment, and secure communications gear, according to ads seen by The Record.
WHM maintained a high level of operational security by requiring all users to disable JavaScript in their Tor browsers before accessing its portal and was known for a strong moderation team that got involved in resolving disputes, which helped the site gain trust with both sellers and buyers alike.
This helped the site grow in the void created in mid-2019 after the Dream Market exit scammed, the Empire Market shut down, and after US and European authorities took down the Valhalla and the Wall Street Market earlier in the year.
Catalin Cimpanu
Catalin Cimpanu is a cybersecurity reporter for The Record. He previously worked at ZDNet and Bleeping Computer, where he became a well-known name in the industry for his constant scoops on new vulnerabilities, cyberattacks, and law enforcement actions against hackers.