Colombia National Food and Drug Surveillance Institute hit with cyberattack
Colombia's National Food and Drug Surveillance Institute (INVIMA) said it is dealing with a cyberattack that has disrupted operations at the agency.
The organization said in a statement on Monday it has disabled its website, as well as connections to its servers while it investigates the attack. As of Wednesday, its website was still offline. 
"Thanks to the timely response of our technical team, it has been possible to verify that the information, privacy and confidentiality of the data that the entity manages are protected," the institute said in a statement on Monday. 
According to INVIMA, the systems used to manage the import authorization of vital medicines is currently unavailable. 
The regulatory authority was created in 1992, and operates within the country's Ministry of Health. It is in charge of inspecting and supervising the marketing and manufacturing of health products as well as issuing fines for health violations and the import of certain products.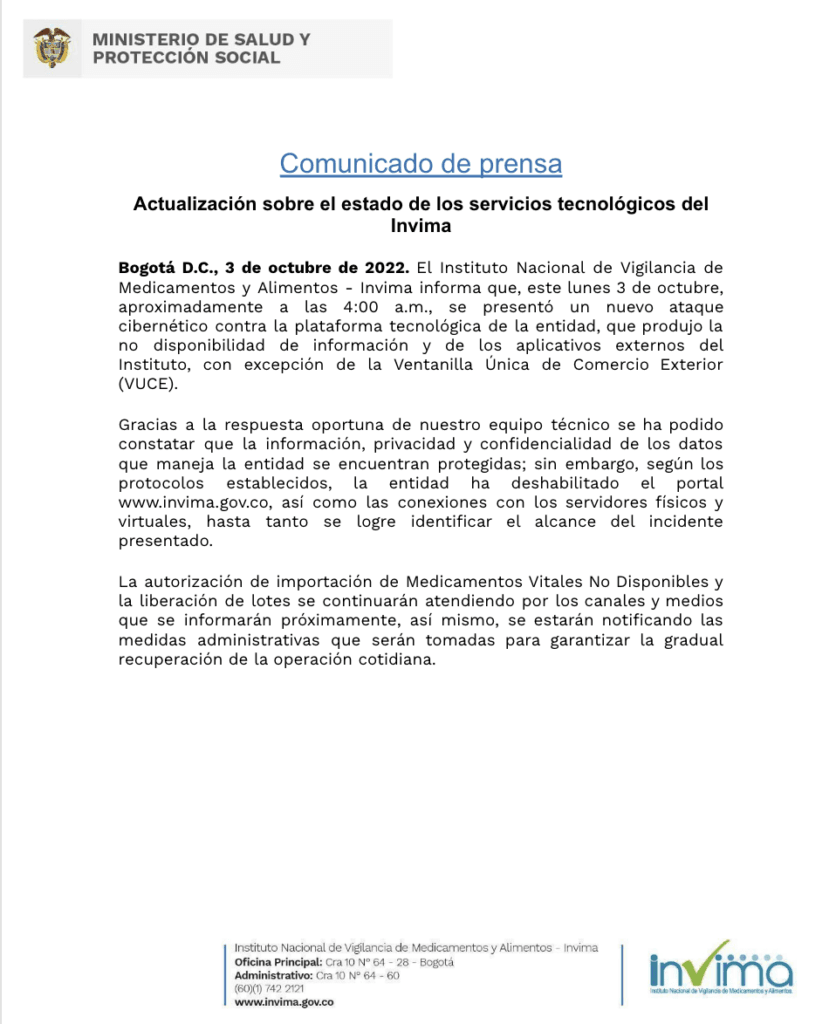 On Tuesday, the organization said it had created alternate methods for people to submit products for review.
Several ransomware gangs and cybercriminal syndicates have targeted governments across Central and South America over the past year.
The legislature of Argentina's capital city announced a ransomware attack on September 13 and Argentina's Judiciary of Córdoba was attacked by a ransomware group in August. Two weeks before that, Chile's cybersecurity incident response team said an unnamed government agency was dealing with a ransomware attack that targeted the organization's Microsoft tools and VMware ESXi servers.
The Dominican Republic, meanwhile, announced that it was refusing to pay a ransom following an attack on one of its departments on August 26.
Ransomware groups similarly targeted the Secretary of State for Finance of Rio de Janeiro in April and crippled the government of Costa Rica in May. There have also been several other rumored attacks on South American nations that were never confirmed.
Jonathan Greig
Jonathan Greig is a Breaking News Reporter at Recorded Future News. Jonathan has worked across the globe as a journalist since 2014. Before moving back to New York City, he worked for news outlets in South Africa, Jordan and Cambodia. He previously covered cybersecurity at ZDNet and TechRepublic.