Cloudflare says it stopped largest DDoS attack on record
Internet infrastructure company Cloudflare said that over the weekend it detected and mitigated the largest distributed denial-of-service (DDoS) attack ever recorded.
The 71 million request-per-second (rps) DDoS attack is more than 35% larger than the previously reported record of 46 million rps in June 2022. Such attacks work by flooding targeted websites with junk traffic, making them unreachable.
The newly observed attack was followed by dozens of others that peaked at 50-70 million rps, according to a blog post released on Monday.
The unknown attackers targeted a popular gaming provider, cryptocurrency companies, hosting providers, and cloud computing platforms.
The DDoS attacks originated from numerous cloud providers, and Cloudflare has been working with them to crack down on the botnet behind the attack.
"Over the past year, we've seen more attacks originate from cloud computing providers," the company said.
This isn't the first time Cloudflare has claimed to have stopped "the largest" DDoS attack on record. The company said that these attacks are getting "bigger, more sophisticated, and more frequent."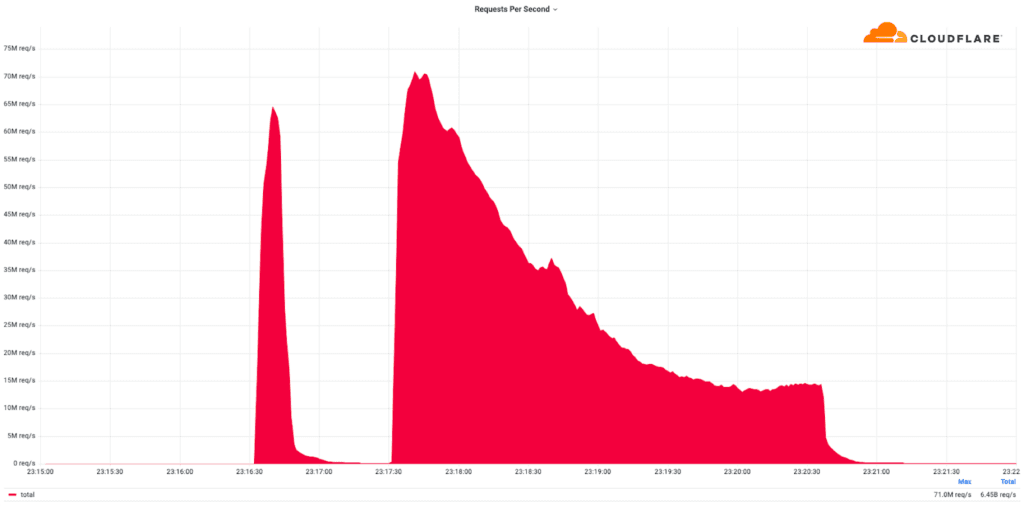 The attack spiked to a level of requests-per-second never seen before in a DDoS incident. Image: Cloudflare
The amount of DDoS attacks increased by 79% in 2022, and the number of attacks lasting more than three hours increased by 87%, according a recent report from Cloudflare.
The hackers behind these attacks are getting smarter, Cloudflare said — they often choose DDoS extortion attacks over ransomware attacks because it's cheaper and easier.  
"Ransom DDoS attacks don't require tricking the victim into opening an email or clicking a link, nor do they require a network intrusion or a foothold to be carried out," Cloudflare said. Instead, hackers just flood their victims with enough traffic to negatively impact their internet services, and ask for a payment to stop the attack. 
Get more insights with the
Recorded Future
Intelligence Cloud.
Learn more.
Daryna Antoniuk
Daryna Antoniuk is a freelance reporter for Recorded Future News based in Ukraine. She writes about cybersecurity startups, cyberattacks in Eastern Europe and the state of the cyberwar between Ukraine and Russia. She previously was a tech reporter for Forbes Ukraine. Her work has also been published at Sifted, The Kyiv Independent and The Kyiv Post.