Biden nominates new Cyber Command No. 2, Navy cyber chief
President Joe Biden has nominated the head of the Air Force's digital warfighting branch to be the next deputy of U.S. Cyber Command, Defense Secretary Lloyd Austin announced Tuesday.
Air Force Lt. Gen. Timothy Haugh — the current chief of the Sixteenth Air Force (Air Forces Cyber) — would replace Lt. Gen. Charles Moore, who has served as Cyber Command's No. 2 since September 2020.
If confirmed by the Senate, the move would place someone who has served in several key positions within Cyber Command atop the organization's leadership as it looks to bolster digital operations to defend the 2022 midterm elections from foreign interference.
Before he took the reins of the Sixteenth Air Force in 2019, Haugh — who is considered the most likely successor to Cyber Command and National Security Agency chief Gen. Paul Nakasone — was the commander of the Cyber National Mission Force.
In that role he served as the Cyber Command co-lead of a joint election security task force with the National Security Agency that worked to protect the 2018 midterms from foreign hackers, an effort dubbed Operation Synthetic Theology.
Prior to that, Haugh served as Cyber Command's director of intelligence and was the deputy chief of Joint Task Force-Ares, a special unit the Pentagon created in 2016 and ordered to develop offensive cyber weapons to combat the Islamic State.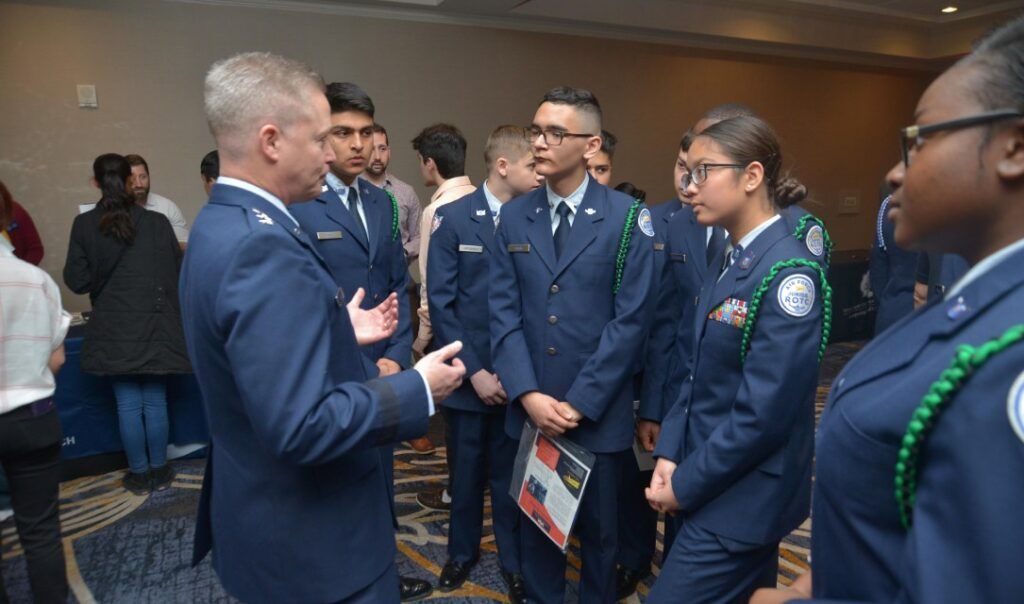 LT. GEN. TIMOTHY HAUGH SPEAKING TO CYBERPATRIOT PARTICIPANTS IN FEB. 2020. IMAGE: VINCENT CHILDRESS
As the head of the Sixteenth Air Force, Haugh oversaw the development of the service's first information warfare entity that is responsible for a number of missions, including cyber.
The numbered Air Force also provides defensive and offensive cyber operations for critical combatant commands, including U.S. European Command, which has taken a lead role in coordinating U.S. military assistance to Ukraine since Russia's unprovoked invasion.
Earlier this month, Nakasone said the command had increased the number of "hunt forward teams" sent to Eastern Europe to uncover potential network vulnerabilities
In an interview earlier this month with The Record, Haugh said such efforts with ally nations had become "routine."
"What is different now in the cyber domain is our partnership — in this case with EUCOM — to be able to reach out to allies. Where in the past, they could have a partnership from a cyber perspective but their staff wasn't always created to do that," he said.
Haugh said his organization had worked with allies to grow their digital capacity.
"Those are the types of activities within the department that has allowed Cyber Command to be a really good partner with those combatant commanders that have a geographic focus and are really working with a number of nations to build their capacity," according to the three-star.
It was not immediately known what Moore's next assignment would be. 
Cyber Command did not respond to a request for comment.
Austin also announced that Navy Rear Adm. Craig Clapperton had been nominated to become a vice admiral and the next chief of Fleet Cyber Command. He would replace Vice Adm. Ross Myers, who previously served as Cyber Command's deputy chief.
Clapperton, a career naval aviator, is currently the No. 2 at Fleet Cyber Command. He previously served as deputy director of operations at Cyber Command, according to his service biography.
If confirmed by the Senate, Clapperton would be the second new chief of a military cyber branch this year, after the Army.
It's unclear when the Senate will take up the two nominations.
Martin Matishak
Martin Matishak is a senior cybersecurity reporter for The Record. He spent the last five years at Politico, where he covered Congress, the Pentagon and the U.S. intelligence community and was a driving force behind the publication's cybersecurity newsletter.