Biden nominates Lt. Gen. Timothy Haugh for top position at NSA, Cyber Command
President Joe Biden has tapped Air Force Lt. Gen. Timothy Haugh to serve as the new chief of U.S. Cyber Command and the National Security Agency, two sources familiar with the decision told The Record.
An official U.S. Air Force "General Officer Nomination" was sent out on Monday night nominating Haugh, Cyber Command's current deputy, for the dual roles, according to one source.
Politico first reported the nomination.
The move, which was long expected, will put Haugh atop the Defense Department's premier digital warfighting unit and the country's largest intelligence agency once he is confirmed by the Senate. The two organizations have shared a leader since the Pentagon launched Cyber Command in 2009.
Defense Secretary Lloyd Austin indicated in a recent letter that the administration intended to nominate a new chief to helm both the NSA and Cyber Command to replace Army Gen. Paul Nakasone, who has held the reins for just over five years.
Speaking to reporters earlier this month after his closing keynote address at Vanderbilt University's Summit on Modern Conflict and Emerging Threats, Nakasone demurred when asked about his plans.
"I won't get ahead of the president or the secretary on this," he said. "I get up every morning really excited to lead these organizations."
The Wall Street Journal reported earlier this month that Nakasone had told colleagues he intended to retire.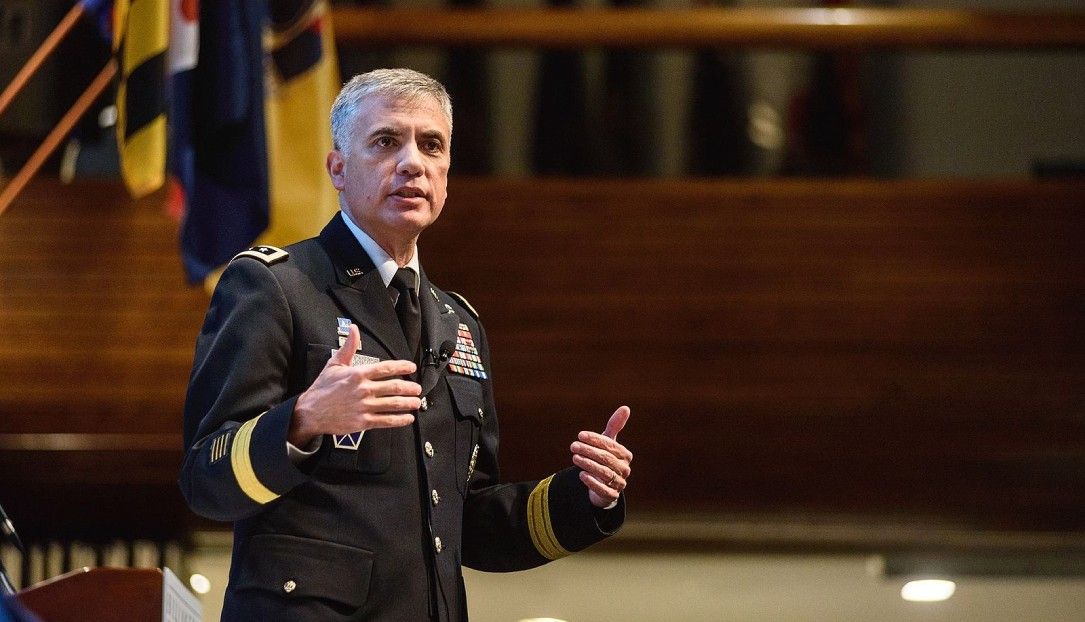 Army Gen. Paul Nakasone, who currently leads NSA and Cyber Command, has reportedly told colleagues he intends to retire.
Prior roles
Haugh has served in a number of senior roles at Cyber Command, including head of the command's elite Cyber National Mission Force.
In that role he served as Cyber Command's co-lead of a joint election security task force with the National Security Agency that worked to protect the 2018 midterms from foreign hackers, an effort dubbed Operation Synthetic Theology.
Prior to that, Haugh served as Cyber Command's director of intelligence and was the deputy chief of Joint Task Force-Ares, a special unit the Pentagon created in 2016 and ordered to develop offensive cyber weapons to combat the Islamic State.
Haugh also oversaw the creation of the Sixteenth Air Force (Air Forces Cyber) as the service's first information warfare entity, responsible for a number of missions, including cyber.
That numbered Air Force also provides defensive and offensive cyber operations for critical combatant commands, including U.S. European Command, which has taken a lead role in coordinating U.S. military assistance to Ukraine since Russia's unprovoked invasion.
While Haugh's career would seemingly make him easy to confirm, it comes as Sen. Tommy Tuberville (R-AL) continues blocking Pentagon nominees in protest over the department's abortion travel policy. Roughly 200 senior civilian and uniformed nominees have been caught up in the Republican's blockade.
The nomination also comes as the administration labors to renew powerful electronic spying tools that are slated to expire at the end of the year. Section 702 of the Foreign Intelligence Surveillance Act allows the NSA to collect troves of information and other communications of foreign targets located outside of the country but also incidentally vacuums up the personal data of an unknown number of Americans.
Lawmakers on both sides of the aisle have expressed anger about how analysts at the FBI access the statute's massive database.
Nakasone has pushed for the law's renewal, arguing its importance against digital threats.
When the law was last reauthorized in 2018, many of the arguments in its favor were "based upon counterterrorism," Nakasone told reporters earlier this month.
"I think in 2023, as we go for the reauthorization, a lot of what we will be discussing is the importance of us being able to have insights on what cyber actors are doing to the nation."
Nakasone's legacy
Soon after he assumed command in 2018, Nakasone revamped how Cyber Command utilized its hackers against foreign threats via a doctrine of "persistent engagement" — where U.S. forces are engaged in nonstop contact, including offensive actions, with adversaries in cyberspace.
The command saw its authorities and responsibilities greatly expanded by the Trump administration and Congress, including defending the country's elections.
In December, Nakasone told reporters his organizations had taken action against Russian and Iranian hackers during the 2022 midterms — making it the third consecutive election cycle they did so.
Since 2018 the command has also deployed "hunt forward" teams to nearly two dozen countries around the globe to study the digital tactics of foreign adversaries firsthand and obtain new and unfamiliar malware.
On the NSA side, Nakasone established the Cybersecurity Directorate to help the agency regain its "white hat" hacker mantle by providing timely and relevant information about vulnerabilities with the private sector.
He also oversaw the creation of the NSA's Cyber Collaboration Center, an unclassified hub just outside of Fort Meade, Md., where the agency's digital experts can work with representatives from the private sector to share information about digital threats and vulnerabilities.
Nakasone wanted to give some of his NSA initiatives — such as the creation of the agency's Cyber Directorate — more time to mature, and not be wiped away immediately by a potential successor.
More recently, the NSA created a new assistant deputy director post focused on China in order to streamline efforts relating to what the Pentagon has called America's "pacing threat."
A DoD spokesman declined to comment.
Get more insights with the
Recorded Future
Intelligence Cloud.
Learn more.
Martin Matishak
Martin Matishak is a senior cybersecurity reporter for The Record. He spent the last five years at Politico, where he covered Congress, the Pentagon and the U.S. intelligence community and was a driving force behind the publication's cybersecurity newsletter.