Acer says server for repair technicians accessed by hackers
Taiwanese computer maker Acer has confirmed that it suffered a breach involving the leak of technician documents related to staff manuals, product model documentation and more.
In a statement Tuesday to The Record, the company said there is "no indication that any consumer data was stored on that server."
"We have recently detected an incident of unauthorized access to one of our document servers for repair technicians," the company said, noting that the investigation is ongoing.
The statement comes after someone offered 160GB of data for sale on a hacker forum that they claimed came from Acer.
The person selling the database said it had "confidential presentations," manuals and binaries as well as information on phones, tablets and laptops. The post also says replacement digital product keys and more are included in the database.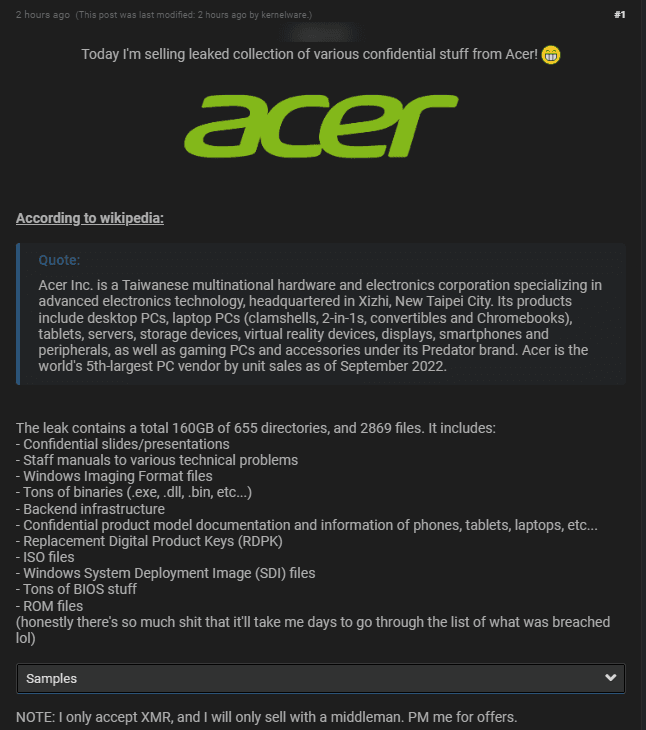 Acer has faced several data breaches in recent years, including a headline-grabbing ransomware attack in 2021 that involved a $50 million ransom demand from the REvil cybercrime group. The attack hit the company's back-office network.
The hardware giant also suffered breaches in 2021 and 2012 that involved customer details and login information for Indian retailers and distributors as well as 20,000 user credentials.
Acer is the sixth-largest personal computer maker in the world, with a market share of roughly 6% of all global sales. The company reported total revenue of about $9 billion in 2022.
Jonathan Greig
Jonathan Greig is a Breaking News Reporter at Recorded Future News. Jonathan has worked across the globe as a journalist since 2014. Before moving back to New York City, he worked for news outlets in South Africa, Jordan and Cambodia. He previously covered cybersecurity at ZDNet and TechRepublic.